13 Cheap Sectional Sofas, Because Who Said Comfy Means Expensive?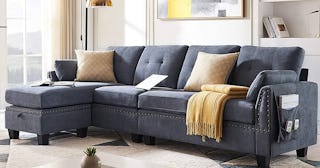 Amazon
You may think that outfitting your home with new furniture is an expensive task, but what if we told you there are some amazingly cute and cheap sectional sofas out there? Though large pieces of furniture like couches, dining tables, and bed frames often run pricey, trust us, mama — there are plenty of great options that are budget-friendly too.
Cheap sectional couches can be the perfect centerpiece to your living room or family room (or even your bedroom if you've got it like that). But if you live in a smaller home or apartment, you probably don't want something too overbearing in regards to space. Purchasing a new sectional is a big deal! And there are a lot of things to consider (color and material, among other things). The couch is a place where the entire family can relax after a long day, have fun movie nights, and make memories together — so while budget is important, we know you want a cheap sectional couch that's comfortable too.
Below we've found affordable sectional sofas that cover all areas of concern. From small sectionals for smaller spaces, leather sectional sofas to match the ottoman you refuse to toss, and everything else in between. Check out our top picks for cheap sectional sofas — and don't forget to grab a waterproof couch cover to protect your brand new furniture from the littles!
Best Cheap Sectional Sofas
Cheap Sectional Sofas Under $500
Small Sectional Sofas for Cheap
This article was originally published on