These Cuddly Security Blankets Will Become Your Baby's Favorite Lovey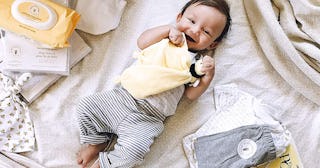 Amazon
Security blankets — aka loveys — are cozy and comforting for almost any babe. There's your standard buttery-soft baby blanket, of course, but we're talking about the plush, snuggly loveys that bridge the gap between a blanket and a snuggly stuffed animal. Babies absolutely love them and moms swear by them because they not only help your sweetie cope with the attachment phase, they also help them sleep better during naps and at nighttime (and what mom in her right mind would be opposed to that?!) That said, be sure BB is old enough to safely sleep with a blankie before adding anything to their crib, otherwise, loveys are for *supervised naps* only.
PSA: When it comes to shopping for a baby security blanket, it's important to make sure that all areas of the lovey are sewed on rather than added in—i.e. those eyeballs and that nose shouldn't be made out of buttons, beads, or any other teeny-tiny material that could easily fall or be bitten off. You also want to take extra caution to avoid strings or wires of any kind. Luckily, baby-friendly security blankets are not hard to come by—nor are they expensive. Even better, the options are so cute, you can find one that looks good in your LO's room too, whether it's lovingly laid across their bedding or tossed onto a toddler lounge chair.
From loveys with woodland creatures to cheeky picks featuring your favorite foods (yes, really), we've rounded up the best mom mom-approved security blankets that your baby will love — and you will, too.
Best Animal Security Blanket Loveys
Unique Security Blankets For Babies
This article was originally published on