The Best Solar System Toys In The World, Nay, Galaxy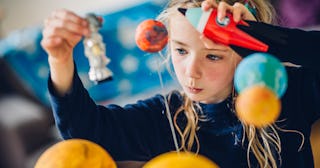 Getty Images/SolStock
If your kid is in a major solar system toys phase, we get it. There's something about outer space that captivates kids (and grown ups, tbh) of all ages. From the time they're babies, children point to the sky, the stars, and the moon, fascinated by what's out there. The cosmos are pretty magical, especially through the eyes of a child, which is why there is a bevy of solar system toys for kids available at every age level. And if your kid really wants to go all out, we can recommend some great telescopes, too.
The Benefits of Solar System Toys
Dr. Stephanie Ryan, Ph.D. is a Learning Scientist, mother, and the women behind the @LetsLearnAboutScience, the educational Instagram account with over 10 thousand followers. According to her, small children learn about future careers and basic science concepts through play, so playing with solar system toys can spark the beginning of their interest in science or astronomy.
"You know how your child knows all the facts about their favorite cartoon character? (I'm looking at you, Paw Patrol.) Take this idea that they soak up information from their toys and shows and apply it to their toys."
When you think about it, learning about the planets is kind of the first time children become aware that there's a world—or worlds—beyond the one they're familiar with (a whole universe out there that doesn't revolve around them? Gasp!). And the traditional solar system model isn't the only way for them to learn, either: From puzzles and mobiles to light projectors and even sidewalk chalk shaped like the planets, the space-themed options are plentiful.
How do I find good solar system toys for kids?
It's all about accuracy and imagery when it comes to solar system toys. Because kids learn by playing, it's important to have accurate space and planet information on the toys you buy.
"Look for toys and puzzles that accurately represent the size and order of the planets," said Dr. Ryan. "Make sure that the planets are in the correct order and look similar to the actual planets. Kids learn things about the surface features simply through playing, so I find it best to have good images from the start… Not all space toys have that accuracy and your child will benefit from you doing the extra research on the products."
Luckily, we've done a bit of research for you, Mama. No matter how old your budding astronomer or aspiring astronaut, there's a toy or model here that will keep yours interested, engaged, and asking questions. They'll keep busy and learn at the same time—and isn't that the goal? Of course, it is. So make some, er, space in their toy collection and shop our favorite finds for the kids in your orbit.
Best Solar System Models for Kids
Best Solar System Toys
This article was originally published on