The Best Stocking Stuffers You Can Buy For Under $10 (And Even Under $5)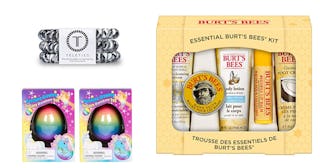 Cheap stocking stuffers on Amazon abound, and you can find funny, clever, and functional little gifts for under $10 (and some are even under $5). Whether your shopping list includes kids, teens, or adult men and women (who may be kids at heart), there's a little something for everyone. After all, there's nothing more tantalizing than seeing a row of overstuffed stockings hanging on the fireplace mantle or banister — just thinking about it makes us feel all warm and fuzzy inside.
If you're stumped on stocking stuffers, check out our top picks for toddlers, kids, teens, moms, and NSFW prank gifts.
So if you're preparing for a magical Christmas morning with some great stocking stuffers, save yourself some searching and check out the list below. We've rounded up the cutest, weirdest, and most useful goodies on Amazon, and they're all under 10 bucks. This year, you can make sure everyone on your list has a nice, plump stocking to dive into, courtesy of the Scary Mommy Stocking Stuffer Guide.
Amazon Stocking Stuffers Under $10
Amazon Stocking Stuffers Under $5