25 Fun Stocking Stuffers for Kids That Are *Almost* As Good As The Bigger Gifts
by Rachel Aschenbrand-Robinson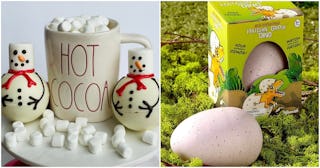 Etsy / Amazon
Stocking stuffers are like the sprinkles on top of the Christmas ice cream sundae: They're small, but they add that extra special something to the experience. That said, stocking stuffers for kids (and especially stocking stuffers for toddlers) can wind up at the bottom of your gifting to-do list, leaving you scrambling at the last minute to grab whatever's left in the holiday aisle at the drug store–and spending money on a bunch of stuff your kids won't remember in five minutes.
If you're stumped on stocking stuffers, check out our top picks for toddlers, teens, moms, under-$10 trinkets on Amazon, and NSFW prank gifts.
It doesn't have to be that way, of course. To help you avoid the mad dash — and the same old trinkets and candy — we've curated a handy list of stocking stuffers for kids. Of course, if chocolate Santas and cozy socks are a tradition in your family, by all means, keep on keeping on. But if you're looking for extra suggestions for goodies to fill your kids' stockings, we've found some fun, unique, and even meaningful and educational picks they'll actually be excited about, even with the big presents freshly opened.
It's hard to compete with those splurge gifts, but these add-ons will give the main event some real competition. From glow-in-the-dark bath cubes to a mini mermaid terrarium to poop bingo (yes), you'll find stocking stuffers for every kid on your nice list this year.
Best Stocking Stuffers For Kids
Best Stocking Stuffers For Girls
Best Stocking Stuffers For Boys