The Best Stuffed Animals For Becoming Your Baby's First Friend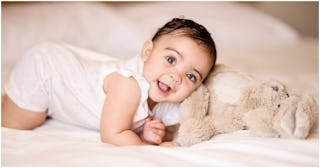 Getty Images
The best stuffed animals for babies have to have something extra special to become your child's first friend. Not to say there's a shortage in your nursery: As soon as we announce we're pregnant, the stuffed toys for Baby start rolling in. They seem to multiply in our sleep and easily overtake the playroom and toy box, not to mention our kid's bed. However, not all stuffies are created equal. We all remember our favorite stuffed animal, the one that went everywhere with us at home or away.
There's a variety of things that can make something the most popular stuffed animal with your babe. For infants working on hand-eye coordination, it can be the ease of grabbing it and snuggling it close. Or for those troubled sleepers, plush toys that play soothing sounds outside of the crib can easily swing them into favor. For us mamas, we love organic toys made of plush materials so we know BB is safe from any harmful chemicals while playing with their soft toy.
Are stuffed animals beneficial for babies?
According to Toy Insider's Charlene DeLoach, they are totally beneficial! Along with being a mother of two and a toy blogger at The Charlene Chronicles, she's been a toy expert for The Toy Insider for the past decade. In other words…she knows the deal on stuffed animals, plush toys, and plenty more.
"Stuffed animals enable babies to self-soothe and they reduce anxiety and fear," DeLoach says. "Having a cuddly companion also helps babies learn empathy and develop language skills."
Are stuffed animals safe for babies?
Please note: The American Academy of Pediatrics does not recommend stuffed animals or any soft bedding in Baby's crib until after they're 12 months old. That means stuffed animals for babies are for supervised playtime only — not for sleeping with. For young children, be sure any plush toy is free of choking hazards, such as button eyes or other details that could pop off and be put in their mouths.
"When shopping for a stuffed animal for a baby, you want to make sure the eyes, mouth, nose, and other markings are embroidered to reduce beads and other embellishments from falling off and potentially causing choking hazards," DeLoach adds. "Also, look for plush without perfumes, fragrances, or other artificial enhancements and seek natural fibers and fabrics to avoid allergic reactions."
As long as the toy you choose is designed to be baby-safe, your little one can enjoy some tactile, cuddly play.
At what age do babies like stuffed animals?
Infants may snuggle their plush pals a bit, but babies usually don't start showing a real interest until they're about 1 year old!
What to consider when shopping for stuffed animals
DeLoach suggests leaving the bright-colored, sound-making, battery-operated stuffed animals and toys for daytime play only (under adult supervision, of course). If you're looking for something soothing and cuddly for your baby, consider soft and muted colors instead.
The second thing to consider (which may be most helpful to you, Mama) is to look for stuffed animals that are machine washable. That way you can throw it in the wash with no extra hassle or worry of dirty toys laying around your little one.
***
With so many stuffed animals on the market today, it's hard to know which ones to choose. While it's largely a matter of personal choice, we've curated a list of our favorites from the soft and cuddly to the best baby shower picks for baby's first stuffed animal. We can't wait to see all the IG photos of BB's Teddy Bear Picnics and tea parties!
Best Stuffed Animals
Best Stuffed Animals For Babies
Musical Stuffed Animals For Babies
Best Organic Stuffed Animals
This article was originally published on