The Best Snow Boots For Toddlers, Because Winter Is Coming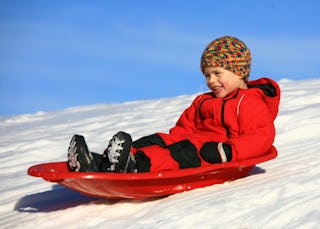 Getty Images/ImagineGolf
You're gearing up for winter, and it's time to get your toddler some winter boots, right? It probably seems like every couple of months you're buying new shoes for your toddler—and that's because you probably are! Baby and toddler feet grow at an insane pace that it can be near impossible to keep up. The best way to go about it to ensure that your kiddo always has a few cool pairs of kicks that you don't have to squeeze him into is to switch up his shoe selection at the beginning of each season.
The undisputed best two seasons to shop for toddler shoes? Without a doubt fall and winter. The shoes are the cutest and there are so many different styles that you just desperately want to see your child in. And, let's be honest, your kid needs to wear shoes during these seasons, unlike in the summer when she can pretty much just run around barefoot (most of the time).
When it comes to picking shoes for a baby or toddler, no matter the season, support should be the number one consideration. You want shoes that are comfortable and provide enough support for your child to move freely. Any constraints around the feet or ankles can prove to be troublesome for tiny feet.
Ready to get shopping? From chic booties to rain boots, here are some of the best toddler shoes for fall and winter.
Best Kids' Snow Boots
Best Boys' Snow Boots
Best Girls' Snow Boots
Best Winter Boots for New Walkers
Ready to do some more buying for your little one? Check out more mom-approved kids gear here.