The Best Unicorn Toys, Because Who Doesn't Love Unicorns?
by Allaya Cooks-Campbell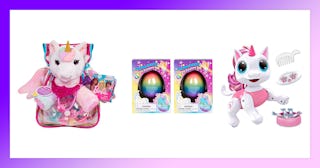 Amazon
Unicorn toys will never go out of style. In fact, unicorn anything will never go out of style. Baby shark toys come and go, but unicorns are here to stay. You've noticed it, we've noticed it — unicorns are everywhere. It doesn't matter how old your kids are — preteen or pull-ups, there's a unicorn stamped on it. We're not exactly mad about the trend either. It's not often, after all, that you can combine a positive statement about being unique with sparkles — or find common ground between your six and sixteen-year-old. Whether you're shopping for a baby shower, birthday party, or preparing your kid to be a fairytale dressage champion, here's our picks for the best unicorn toys for kids of all ages.
RELATED: 10 Unicorn Coloring Pages For Your Uni-Obsessed Kiddos
Best Unicorn Toys for Kids
Best Toddler and Baby Unicorn Toys
Best Unicorn Toys for Girls
Cuddly Unicorn Stuffed Animals