Vitamin C Infused Skincare Products That Brighten And Heal Stressed, Aging, Dehydrated Skin — It's Not Just For Fruits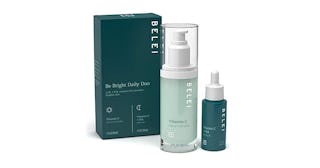 Amazon
We will do practically anything to restore our skin's once youthful glow. Ain't that right?
Kids — they bring us so much joy, sure, but they also bring a f*ck-ton of laugh lines, fine lines, and inescapable dark under-eye circles. It's an inevitable part of being a mom that we just have to grit our teeth and bare. But that doesn't mean we can't get our skin back to the radiance of our 20s— or at least use the miracle of nature and science to try to get there.
RELATED: 8 Best Nutritionist Recommended Vitamins & Supplements For Kids of All Ages
As a parent, you may not have as much time as you once did to focus on your skincare, but that does NOT mean your beauty routine should RIP. With the help of vitamin C on our side, you can cut your skincare routine to a few short minutes, while still giving your skin the spa-worthy TLC it craves and deserves.
Why vitamin C? Harnessing the specific benefits of vitamin C stimulates collagen production, adds an instant glow, and banishes free radicals that do harm to your skin. If you've got dark spots, underye circles, hyperpigmentation, acne scars, or spend a helluva lot of time in the backyard, in the sun, chasing after toddlers, vitamin C should be your go-to skincare product.
And it's not just because we said so. (Although "because we said so" is one of our favorite reasons.) There's science to back that sh*t up.
"Vitamin C is a free-radical scavenger," explains David Delport, Global Skin Expert for REN Clean Skincare. "If you've ever wondered why you get a near instant glow (and slightly warmer skin tone) from a vitamin C product, it's because it has topically rinsed the surface of your skin of oxidate (greying and dulling) damage."
To help you get from grey to glam (or at least deliver a little glow) we found some of the best vitamin C beauty products on the market right now.
Skin on fleek? Check out more of our mom approved beauty must-haves!
This article was originally published on