12 Best Watch Boxes & Cases For Storing & Displaying Your Favorite Timepieces
by Nichole Talbot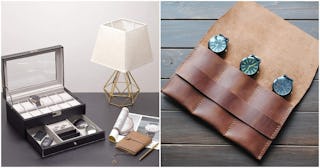 Amazon/Etsy
Watch boxes are a necessity for collectors who want to display and store their favorite accessories. But first, you may be thinking, "do people wear enough watches these days to need watch boxes? That's what our phones are for, right?" Think again. Watch wearing is still widely popular among women and men (hello, Apple Watch). Men tend to especially enjoy sporting a watch because there are so few accessories options designed just for them. So if you or your loved ones have more than a couple of watches, y'all are going to need a place to store and protect them from scratches and dust. Watch boxes can also keep more than timepieces. A good one makes a great place to store any overflow jewelry from a jewelry tray on a dresser. And don't forget the gift-giving opportunities. Consider a watch box for any watch wearer in your life as an anniversary, father of the bride, maid of honor, or bridesmaid gift.
If you're looking to buy one, there are a few different types to choose from (who knew?!). We've rounded up some of the best watch boxes, cases, displays, and organizers that you or a fellow watch lover in your life will enjoy!
And speaking of watches, you can find a great watch for the kiddos, including smartwatches, fitness trackers, waterproof watches, and watches for teens!
Best Watch Boxes
Best Watch Display Cases
Best Watch Holders
Best Watch Storage Boxes & Cases