15+ Fun Spring Activities Your Kids (And You!) Will Love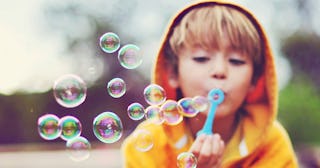 Adriana Varela Photography/Getty Images
Do you feel that? Spring is in the air! With the weather warming up, you and your kids probably want to spend more time outside. Sunshine does a body and mind good. If you're looking for new activities to add to your spring bucket list, look no further. We've put together a list of spring activities for kids that will keep you busy through April showers and May flowers.
So, if your spring routine needs a refresh, know that we're here for you. We want to be your go-to resource for fun spring activities for kids — not to mention for you. To that end, we compiled an (ever-growing) list of ways to spend the day outside with your little ones. Let's get started!
16 Spring Activities for Kids
1. Jump in puddles.
Don't hide out indoors when it rains. Put on your rainwear and splash in some puddles. Enjoy the beautiful weather — whatever it's doing.
2. Play in the sprinklers.
Speaking of water play, turning on the sprinklers is a great way to get wet if you don't want to head out to the public pool.
3. Play hopscotch.
A $1 package of chalk provides hours of fun. One way to use it? Play hopscotch. Your kids will love this old-school playground game. Bonus: You can work on numbers, letters, colors, and shapes (and your kids won't even realize they're learning).
Change up your typical mealtime routine by packing up lunch or dinner and taking it to the park. Be sure to pack sunscreen and a blanket — and watch out for ants!
5. Go camping — in your backyard.
Whether you're a seasoned outdoor enthusiast or a newbie to the camping world, pitching a tent in your backyard is an exciting change of pace for everyone involved. You're close enough to the modern comforts of home while giving your kids an experience they won't soon forget.
6. Play catch with the kids.
This one is super simple — all you need is a ball and a little space to toss it around. It's an excellent way for kids to expend extra energy and work on hand-eye coordination. Plus, it offers up one-on-one bonding time sans screens.
7. Blow bubbles.
Ah, bubbles — the quintessential kid activity. They're cheap but well-loved. And for good reason… they're delightfully whimsical!
8. Enjoy an ice cream cone.
There's nothing quite like strolling through town on a warm spring day, drippy ice cream cone in hand. Head on over to your favorite local spot and treat the family to this delicious dessert.
9. Grow a garden.
Nothing says springtime like sprouting seedlings. Getting your hands in the dirt is a great way to relieve stress and get outta your head for a bit. Added incentive: You're teaching your kids science and self-sustainability in the process. What could be better?!
10. Fly a kite.
Flying a kite on a windy spring day is something we enjoyed as kids and something our kids can enjoy today. Kites are inexpensive and make a dynamic outdoor activity when the weather warms up.
11. Give Fido a bath.
Why not be productive and have fun? Your kids will love splashing around in the water while getting your doggy clean.
12. Skip rocks on the river.
If you've got a body of water nearby, this is a pastime that will keep your kids busy for hours. Skipping rocks has been an activity of choice for generations — and why not? It's a blast, and it gets you in the great outdoors.
13. Chase some butterflies.
Butterflies are beautiful and fascinating. Kids gravitate to them for a reason. Let your kids observe (and yes, even chase!) butterflies for an afternoon of enjoyment. Just be sure to teach them to respect wildlife and never touch these delicate creatures.
14. Take a walk around the block.
There's something to be said for soaking up the simple pleasures in life. Taking a stroll around your neighborhood is one of them. A family walk brings the opportunity for fresh air, movement, and great conversation.
15. Make a flower crown.
Stop by your local flower shop or take advantage of the blooming buds and bring home a bushel. Use those beautiful bulbs to make flower necklaces and crowns. All you need is construction paper, scissors, glue, and a bouquet.
16. Grow a flower.
In honor of spring, you and your kid should plant some flowers. This will teach your little nugget patience, care, and the delicacy of life. It can also double as a science lesson because when it blooms, you can teach your kiddo about photosynthesis.
17. Take a hike
Next to a walk in the park, taking a hike is a good way to break a sweat, discover new places, and dive deeper into nature. It's a bit more strenuous than a walk, but it allows you to get a closer look at the changes in nature. You may even see a few baby ducks or bunnies on your adventure. It's a great way to sightsee and get a break from your day-to-day for a bit.
Does it rain a lot in the spring?
Winter and spring are usually the winners when it comes to rainy days, so it helps to prepare for the weather. There are a million and one things kids want to do when spring rolls around, but it's important to be mindful of the clouds and precipitation levels. Unfortunately, spring is a bit of a rainy season, so have a backup indoor activity when making plans. Especially if you live in the northern hemisphere, prepare for some moisture and have a "Plan B."
This article was originally published on