Stephen Colbert Is All Of Us Weeping As Dolly Parton Sings To Him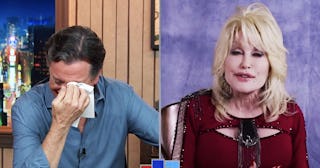 The Late Show with Stephen Colbert/Youtube
There's nothing purer than this video of Stephen Colbert crying while Dolly Parton sings
Stephen Colbert has done a lot of celebrity interviews in his day, but it's not often you see one reduce him to tears. That's exactly what happened on Tuesday night's Late Show, though, when country music legend Dolly Parton broke into a stunning acapella rendition of "Bury Me Beneath the Willow."
Let us set the stage for this oh-so-sweet moment. In the latest virtual episode of the late-night talk show, Parton called in for a remote interview to promote her new book, Songteller: My Life in Lyrics. She began sharing memories of how her late mother, Avie Lee Owens, would sing acapella songs to her when she was growing up. So, to illustrate her story, she decided to sing in the style for Colbert — the touching moment begins around five minutes in.
As it turned out, it was a particularly sorrowful song about a young woman who takes her life after being left at the altar. "Bury me beneath the willow/Under the weeping willow tree/ Where he may know where I am sleeping/And perhaps he'll weep for me," she sang. And, well, there was weeping, too — by the Late Show host.
Colbert's emotional reaction to the spontaneous song was evident almost immediately, as he gestured to someone off-camera that he had "goosebumps." As Parton continued to sing, he began crying, which Parton picked up on. "Are you crying?" she asked between lyrics, joking, "I better hush before you cry yourself to death and we can't finish the show."
Laughing through his tears, Colbert explained, "Like a lot of Americans, I'm under a lot of stress right now, Dolly. You got my tripwire right there, I'll tell you. That was pretty beautiful."
https://www.instagram.com/p/CFf6Onklw0m/
Angel that she is, Parton comforted Colbert by admitting the song used to stir up the same strong emotions in her as a child. "We used to cry when Mama would sing. Mama would cry, we'd cry. Those old songs were just amazing," she said.
In response, Colbert asked, "Isn't it funny that sometimes there's nothing happier than a cry?" To which she perfectly replied, "Yeah, I think that cleanses your soul. Water washes it out. That's what it's for, I think."
https://www.instagram.com/p/CF2AWtHFR2-/
Hey, you don't have to tell us twice. Our emotions live right up on the surface now (thanks, 2020), so it doesn't take much for us to get a good cleansing cry going. And we imagine there will be plenty more where that came from courtesy of Parton when Songteller: My Life in Lyrics hits shelves on Nov. 17.
Until then, we can all cheer ourselves up with Parton's new album, A Holly Dolly Christmas.