The 'Stranger Things 4' Trailer's Big Reveal Has Fans Theorizing An MCU Crossover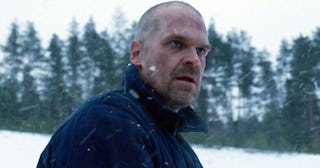 Netflix
The 'Stranger Things 4′ teaser trailer ends with a jaw-dropping reveal
Netflix couldn't have given a better Valentine's Day gift than dropping a teaser trailer for Stranger Things 4. And we're not talking just any 'ole teaser trailer — but a jaw-dropping, gasp-inducing Stranger Things 4 trailer that, while not totally shocking, was still pretty shocking. Why? Because we learned that, yes, Jim Hopper (played by David Harbour) is still alive.
Released on Feb. 14, the 50-second Stranger Things 4 trailer is captioned on YouTube as, simply, "From Russia with love…" For the first 40 seconds or so, we watch the camera slowly pan in on a group of workers in Russia building a railroad. And then, on the 42-second mark, it's revealed that one of those workers is, in fact, Hopper who — spoiler alert for those who didn't watch Season 3 — died at the end of the season. Many speculated after watching the post-credit sequence, however, that Chief Hopper was likely still alive and somewhere in Russia. And as it turns out, those viewers guessed correctly.
In a statement released in conjunction with the new trailer, the creators of the hit Netflix show, Ross and Matt Duffer, also confirmed that production on Stranger Things 4 is currently underway.
"And [we're] even more excited to announce the return of Hopper," they said. "Although it's not all good news for our 'American'; he is imprisoned far from home in the snowy wasteland of Kamchatka, where he will face dangers both human … and other. Meanwhile, back in the states, a new horror is beginning to surface, something long buried, something that connects everything…"
Well then.
With the return of Hopper comes even more theories, the best — and the one gaining the most traction on Twitter — being a Stranger Things-MCU (Marvel Cinematic Universe) crossover.
https://twitter.com/jetpack/status/1228335480053223424
The theory goes: Hopper is alive in Stranger Things, but when the crew fails to track him down, he's then trained by the Russians and becomes Red Guardian, a superhero who's the Soviet equivalent of Captain America. This theory is well-timed, too, considering Harbour will play the role of Red Guardian in the MCU film Black Widow, which hits theaters April 24.
Back in September, the Duffer brothers announced that Season 4 would move beyond the small town of Hawkins, Indiana. Plus, we watched the Byers family pack up their bags and move to a new town at the end of last season.
"The Duffer Brothers have captivated viewers around the world with Stranger Things and we're thrilled to expand our relationship with them to bring their vivid imaginations to other film and series projects our members will love," said Ted Sarandos, Netflix's chief content officer, at the time. "We can't wait to see what the Duffer Brothers have in store when they step outside the world of The Upside Down."
Considering they've just started production on Season 4, it makes perfect sense that Netflix hasn't announced a release date for the new season. But it's likely we won't have to wait much longer…
This article was originally published on