Taylor Swift Can Re-Record All Her Albums, And Fans Are Celebrating
by Leah Groth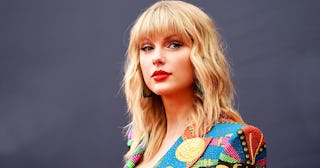 Jamie McCarthy/Getty
After a battle with Big Machine Records, Taylor Swift is now able to re-record her first five albums
Over the last year-plus, Taylor Swift has been immersed in a very public battle over the rights to her first five, chart-topping albums. In June 2019, Scooter Braun, aka Justin Bieber's manager, bought the rights to her old catalogue when he acquired her former label, Big Machine Records, for a whopping $300 million. The singer was pissed to say the least. However, as of November 1, the Respect singer is free to re-record all five albums and her fans are seriously psyched. On Monday, all the "Swifties" of the internet even got the hashtag #TaylorIsFree trending on Twitter.
"Finally, it's November 2020," tweeted a die-hard Swift fan.
"The whole world was waiting for this moment #TaylorIsFree," tweeted another.
Some of her fans revealed that they would soon be deleting her old music in support of the star.
"The whole year felt like a whirlwind and now finally TAYLOR IS FREE," wrote one. "We all will be deleting all of her old music from our playlists and apps and will only be streaming Taylor's art owned by Taylor. That's it."
Some are even predicting that Braun will be bankrupt by the end of the year, which is unlikely due to the fact that Bieber is his cash cow.
In June 2019, Swift was embroiled in a public feud with Braun, dubbing him an "incessant, manipulative" bully after purchasing her catalogue from the label she left the previous year. Braun, alone with Big Machine founder Scott Borchetta, defended the move, claiming Swift was offered the opportunity to buy them back, but declined.
Later in the summer she revealed during an appearance on Good Morning America that per her contract she would be able to re-record Taylor Swift, Fearless, Speak Now, Red, and 1989.
"That's true, and it's something that I'm very excited about doing because my contract says that starting November 2020, so next year, I can record albums one through five all over again," Swift told Robin Roberts. "I'm very excited about it. I just think that artists deserve to own their own work. I just feel very passionately about that."
Currently Swift is with Universal Music Group and Republic, who she signed with in 2018.
"I'm ecstatic to announce that my musical home will be Republic Records and Universal Music Group," Swift revealed on her social accounts at the time.
"Over the years, Sir Lucian Grainge and Monte Lipman have been such incredible partners. It's so thrilling to me that they, and the UMG team, will be my label family moving forward. It's also incredibly exciting to know that I'll own all of my master recordings that I make from now on."
Swift recently shifted musical gears, releasing her first "indie" album in 2020, Folklore, to the delight of pretty much everyone in the music industry, fans, and parents alike. She has also started taking a political stance — recently slamming President Donald Trump — after years of remaining silent about politics.
So, instead of celebrating her "freedom" Swift used her platform to do something truly important: encourage Americans to vote.