Terrific Two-Syllable Girl Names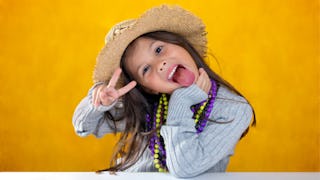 EdrZambrano/Getty
So you're looking for a baby name and you want something that will fit perfectly with your last name and the middle name you have in mind. Sometimes longer first names go great with short surnames. Maybe you want a name that reads in the iambic pentameter, whatever it is, mama, you've come to the right place for options.
Having a little girl with a two-syllable name gives you a lot of creative freedom when calling her name from your bedroom. Not only can you emphasize each part of her name for zest, but it also increases the chances of her hearing you (you're welcome, mama). Don't get us wrong, monosyllabic names are cute and sometimes pack just enough punch your princess needs in her full name. But sometimes you need to up to the anti and find a name that's just a tad bit longer. Two syllable names also fit perfectly into the Happy Birthday song.
Sometimes you need a specific number of syllables to keep the name flow strong. If that number is two, you're in luck! These two-syllable baby girl names pack just the one-two punch you need. And if the latest search data available is any indication, you're not alone in your search for the perfect 2-syllable girl names for your little sweetness. The latest figures show nearly 3,600 searches of that term each month.
Luckily for you, we've gone ahead and done all the research and work for you, so all you have to do is pick and choose what to add to your baby name list.
Quotes to Consider
If you're looking for even more inspiration to give your baby girl one of these monikers, check out wise words by a few famous figures with terrific two-syllable names.
"Be brave and fearless to know that even if you do make a wrong decision, you're making it for a good reason." — Adele
"We should learn to accept that change is truly the only thing that's going on always and learn to ride with it and enjoy it." — Alice Walker
"No two people on earth are alike, and it's got to be that way in music or it isn't music." — Billie Holiday
"It's important to be active in the causes that are important to you — that's how we make changes in this world." — Cameron Diaz
"I've learned that people will forget what you said, people will forget what you did, but people will never forget how you made them feel." — Maya Angelou
"If you surrendered to the air, you could ride it." ― Toni Morrison, Song of Solomon
"If I could be granted a wish, I'd shine in your eye like a jewel." — Bette Midler
2-Syllable Girl Names From Literature
There are a lot of two-syllable girl names, so narrowing your search can feel impossible. The following famous literary characters may help you hone in on your top pick.
Alice, Alice in Wonderland
Anna, Anna Karenina Bella Swan, the Twilight series Molly Bloom, Ulysses Piper Chapman, Orange Is the New Black
Need more baby name ideas for your little tot? We've got comprehensive lists for unique names for girls, last names for boys, nicknames as first names for your little Ace, and so much more!
Curious to know more about your family name and in the last names and meanings of other countries, check out our package on last names from around the world. See how many you recognize: Irish, French, Russian, Spanish, Mexican, Brazilian, Portuguese, and African last names, among others.
Naming a baby can be scary. We can help! Check out our baby name database.
Abby
Abril
Ada
Addy
Adele
Adley
Aerith
Aiko
Aileen
Aine
Ainsley
Aislinn
Alcie
Alev
Alice
Allie
Alma
Alpha
Ama
Amal
Amber
Ami
Amie
Amma
Amy
Ana
Andi
Andry
Angel-unisex
Angie
Anna
Annie
Anouk
Ansley
Anya
Apple
April
Aqua
Arbor
Arden
Ari-unisex
Arie
Arrow
Asha
Ashley
Ashlyn
Aspen
Aster
Astrid
Aubree
Aubrey
Audrey
Ausra
Autumn
Ava
Avah
Avi
Avis
Aya
Ayla
Aylin
Bailey
Bebe
Belen
Bella
Bernice
Betsy
Bette
Betty
Billie
Birdie
Bonnie
Bradi
Braelyn
Braylee
Brenda
Brenna
Bria
Bridget
Brielle
Brienne
Brinkley
Brinley
Brisa
Bristol
Brooklyn
Brylee
Bryleigh
Brynlee
Bunny
Cadence
Cadi
Caitlin
Cali
Calla
Callie
Calyx
Camille
Campbell
Camry
Camryn
Candy
Caprice
Carbry
Carly
Carmen
Carol
Cary
Carys
Cascade
Casey
Catelyn
Celeste
Ceres
Cezanne
Chana
Chandra
Chanel
Charlee
Charlie-unisex
Charlotte
Chaya
Chelsea
Cherie
Cherish
Cheyenne
Chloe
Christine
Cinder
Clara
Claudette
Cleo
Clover
Coco
Colette
Constance
Cookie
Cora
Coral
Corinne
Crystal
Curie
Daisy
Dallas-unisex
Dana
Dani
Danielle
Danna
Daphne
Daryl
Daya
Deka
Della
Delphine
Delta
Demi
Desi
Devon
Dilan
Dinah
Dixie
Dolly
Doris
Dulce
Dusty
Dylan-unisex
Eastyn
Eden-unisex
Edith
Edna
Eileen
Eilish
Eillie
Eira
Éire
Elaine
Elin
Elisa
Elise
Eliza
Ella
Ellen
Ellie
Elsa
Elsie
Elyse
Ember
Embry
Emma
Emme
Emmy
Emryn
Emrys
Enid
Ensley
Eos
Erin
Eshe
Esme
Esther
Ethel
Etta
Eva
Evie
Evren
Fable
Fallon
Farrah
Fila
Finley-unisex
Florence
Frances
Freya
Frida
Fuchsia
Gaia
Garnet
Gemma
Georgia
Gesine
Gia
Gigi
Gilda
Gilly
Ginger
Ginny
Giselle
Gladys
Glory
Golda
Gracelyn
Gracie
Greta
Hadley
Hailey
Halah
Haley
Hallie
Hamza
Hana
Hannah
Harbor
Harley
Harlow
Harper
Harper
Hattie
Haven
Hayley
Hazel
Heather
Heaven
Hedwig
Hedy
Heidi
Helen
Henley
Holland
Holly
Honey
Honor
Hunter-unisex
Hydra
Icy
Ida
Iman
Indy
Inez
Ingrid
Io
Ira
Irene
Iris
Isa
Isla
Itzel
Ivvy
Ivy
Jackie
Jada
Jadis
Jaelynn
Jaime
Jairo
Jalen
Jamie
Jana
Janelle
Janis
Jasmine
Jayda
Jayla
Jaylee
Jayleen
Jaylene
Jazlyn
Jemma
Jenna
Jenny
Jessa
Jessie
Jewel
Joelle
Jojo
Jolene
Jolie
Jordan-unisex
Jordyn
Josie
Joslyn
Journey
Jovie
Judith
Judy
Julie
Juna
Juneau
Junie
Juno
Justice
Kaelyn
Kaia
Kailee
Kailey
Kali
Kallie
Kama
Kanna
Kara
Karen
Karla
Karsyn
Katelyn
Kathryn
Katie
Kaya
Kayla
Keagan
Kehlani
Keira
Kelly
Kelsey
Kendall
Kendra
Kenna
Kensley
Kenya
Kenzie
Kerry
Keyla
Khari
Khloe
Kia
Kiernan
Kiki
Kimber
Kinley
Kinslee
Kinsley
Kira
Kirby
Kitty
Kora
Kori
Kristen
Kyla
Kylee
Kylie
Kyra
Kyree
Lacey
Lachlan
Laila
Lailah
Lainey
Laken
Lana
Landry
Laney
Lara
Laura
Laurel
Lauren
Lauryn
Layla
Lea
Leah
Leda
Leia
Leighton
Leila
Lena
Lennon
Leslie
Lexa
Lexi
Lexie
Lexus
Leyla
Lia
Lila
Lilith
Lillie
Lily
Lina
Linda
Linden
Lindsay
Lisa
Lizbeth
Lizzie
Lois
Lola
London
Londyn
Lori
Lottie
Lotus
Louise
Luan
Lucille
Lucy
Lulu
Luma
Lumi
Luna
Lyla
Lyra
Lyric
Lysa
Mabel
Maci
Macy
Maggie
Maia
Maisie
Maison
Mandy
Maple
Mara
Maren
Margot
Marie
Marit
Marley
Marley-unisex
Marlo
Martha
Mary
Mavis
Maxine
Maya
Megan
Mercy
Merit
Merry
Mia
Miah
Michelle
Michonne
Mila
Milan-unisex
Miley
Millie
Mimi
Mina
Mindy
Minnie
Mira
Mireille
Misty
Molly
Monday
Monet
Monroe
Morgan
Moxie
Mya
Myla
Myra
Myrtle
Nala
Nancy
Navy
Naya
Neda
Neha
Nellie
Nia
Niamh
Nicole
Nike
Nina
Noa
Noelle
Nola
Nomi
Nora
Norah
Nori
Nouvel
Nova
Nyla
Nylah
Oaklee
Oakley-unisex
Oaklyn
Ocean
Olive
Opal
Orchid
Orla
Otter
Paisley
Pansy
Paris
Parker
Parker-unisex
Paula
Pauline
Payton
Payton-unisex
Peggy
Penny
Pepper
Perla
Petal
Peyton-unisex
Phoebe
Piper
Pippa
Pixel
Polly
Poppy
Porsche
Posy
Prairie
Presley
Primrose
Princess
Quinley
Rachel
Raelynn
Raina
Rainbow
Rani
Raquel
Raven
Raya
Reagan
Reina
Remi
Remy
Renee
Renner
Reyna
Rhea
Rhoda
Rhythm
Riley-unisex
Rilynn
Rita
River-unisex
Rivka
Riya
Robin
Ronda
Rory-unisex
Rosa
Roselyn
Rosie
Rowan
Roxanne
Roxy
Ruby
Ryann
Rylee
Saanvi
Sabine
Sable
Sabra
Sabri
Sadie
Saffron
Saga
Sahar
Salem
Sally
Salma
Sandra
Sandy
Sansa
Saoirse
Sarah
Sarai
Sasha
Savvy
Sawyer-unisex
Saylor
Scarlett
Schuyler
Selah
Selene
Sharon
Shayla
Shelby
Sheryl
Shiloh
Shiva
Shuri
Sigrid
Silver
Simone
Sincere
Siobhan
Siri
Skyla
Skylar
Skylar-unisex
Soleil
Solo
Solstice
Sonja
Sonnet
Sophie
Sparrow
Stacy
Starling
Stella
Stevie
Stormi
Story
Summer
Sunny
Suree
Susan
Sutton
Suvi
Sybill
Sydney
Sylvie
Taffy
Tansy
Tara
Taryn
Tatum
Tatum-unisex
Taylor-unisex
Teagan
Teddy
Tegan
Tenley
Terry
Tessa
Teva
Tezlee
Thana
Thea
Thelma
Theory
Tiernan
Tillie
Timber
Tina
Tinley
Tinsley
Toby
Topaz
Tori
Treasure
Tressa
Tristen
Trudie
Tulip
Una
Vada
Valley
Valor
Veda
Venus
Vera
Vida
Vivi
Wanda
Wellesley
Whitley
Whitney
Willa
Willow
Winnie
Winslow
Winter
Wynter
Yara
Yasmin
Ygritte
Zadie
Zahir
Zahra
Zainab
Zara
Zaylee
Zelda
Zena
Zia
Zina
Zoe
Zola
Zora
Zuri
This article was originally published on