10 Unicorn Coloring Pages For Your Uni-Obsessed Kiddos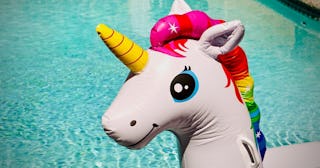 James Lee/Unsplash
Unicorns. Holy cow. Children of the 90s, do you think our Lisa Frank unicorn obsessions ruined unicorns for our moms? While most of us probably aren't still super-obsessed with those gorgeous, mythical horned-horses, they'll always hold a place in our nostalgic hearts. It might be getting a little harder to see them and smile now, though. After all, if you're here, your world is probably nauseatingly full of unicorn crap.
RELATED: 60 Hilarious Unicorn Jokes For Your Magical Little Believer
Our guess is that your mini-me has horned everything, right? They loved the unicorn versions of My Little Ponies best. Most likely, your child has multiple, rainbow-colored headbands with uni-horns on them. They even have a shirt that has a picture of a cat… with a mermaid tail… and a unicorn horn. It's a lot, right? Still. You give the kiddos what they want because it's the only way to get any peace. And, honestly, it all becomes worth it when you clean out Nana's basement and find an old, unused unicorn diary to pass down. Your uni-obsessed kiddo will hug it to their chests and your heart will swell.
So, here you are. Looking for fun unicorn coloring pages. And, Mama, you're in luck. There's roughly a zillion. We've created 10 whimsical and wonderful unicorn coloring pages and — bonus! — they're all free. So, grab your crayons, and let's get to coloring.
Free and Easy Unicorn Coloring Pages
1. Star Unicorn
From its shimmering horn to its belly star, this unicorn is pure magic. It's simple enough for little ones to easily fill in, but it's so cute you'll want to grab a crayon, too.
2. Unicorn Rainbow
Nothing's cuter than a unicorn… unless it's two unicorns with hair flowing together to form a rainbow. Really, who wouldn't smile while coloring this preciously pure page?
3. My Little Unicorn
Calling all My Little Ponies fans! Feed your need for nostalgia with this sweet unicorn. And hey, if you want to use this coloring page to segue into introducing your kid to your treasured childhood toys, we'd be 100 percent behind that.
4. Yoga Unicorn
Namaste! As in, nama-stay at home coloring this adorable yoga-loving unicorn. Just looking at it makes us feel more zen! Roll out your favorite mats, dump a box of colored pencils beside you, and enjoy harnessing your chi with your little one while you fill in these lines.
5. Another Unicorn Rainbow (Because Why Not?)
If you ask us, you can never have too many unicorn rainbows. This little cutie is flying solo — literally, it appears to be dancing on the clouds as its majestic hair splays out like a glorious rainbow.
6. Unicorn Heart
Well, we don't know about you, but we just want to scoop up this little angel and give it a hug. But since that's not possible, we're happy to do the next best thing: watch our kiddos bring it to life through coloring.
7. Magical Unicorn
Sure, all unicorns are magical. However, there's something extra special about this one. Is it the twinkling stars? Or the giant floating gem beside its head? Could be. Or perhaps it's because it reminds us of one of our greatest childhood obsessions: Rainbow Brite's horse Starlite (with a horn).
8. Happy Star Unicorn
Speaking of stars, check out this happy coloring page. It's got stars (obviously), plus rainbows, clouds, and a smiling unicorn. What more could a unicorn-lovin' kid — or adult, no judgment — ask for?
9. One More Unicorn Rainbow
We told you that you could never have too many unicorn rainbows, and we weren't kidding. It's worth mentioning, though, that this particular printable is a bit more detailed than the previous two. So, it could be perfect for tweens or, you know, any Type A perfectionists you have in your house (*raises hand*).
10. Winged Unicorn
When it comes to unicorns, we all know the Holy Grail is the winged unicorn — the pegasus meets the unicorn. You may have spent your childhood searching the skies for one to no avail. Well, here you go, Mama… your very own pegacorn to keep for yourself or share with your littles.
Sharing Your Unicorn Coloring Pages
Once your little artist brings these coloring pages to life, you'll have masterpieces ready to hang on the fridge or share on social. Feel free to tag @ScaryMommy when you post to Insta, Facebook, Twitter, or Snapchat — we'd love to see (and re-share!) your kiddo's creation.
How to Draw a Unicorn
Have a kiddo who wants to try their hand at drawing their own magical unicorn? Encourage that experimental and can-do spirit by having them draw this mythical creature with the many step-by-step guides at their disposal. Videos on YouTube take budding artists through details they can easily emulate and replicate. After all, coloring in a unicorn you drew is so much more fun!
This article was originally published on