14 Upcycle Ideas That Will Make You Want To Open Your Own Etsy Shop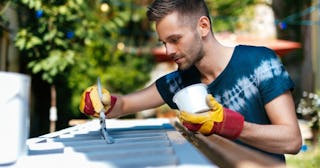 Guido Mieth/Getty
It's easy to scroll through Etsy shops and think "wow, I could do that myself." It's one thing when the items require a specific artistic skill, but a lot of the impressive upcycling finds are pretty straightforward crafting projects and can be made out of materials in your own home. If you need some inspiration or other items, there's always flea markets and yard sales. The point is, you're going to want to primarily stick with things that already exist so you can give them a new purpose and life as something even better (hence the recycling part). Here are some relatively simple upcycle ideas to help get you started and channel the inner HGTV star inside you.
RELATED: Ready To Start A Container Garden? Here's What You Need To Know
Repaint Old Furniture
This is probably the most basic type of upcycling, but you'd be amazing at what a new coat of paint will do to an otherwise ugly piece of furniture. Whether it's an end table, dresser, bed frame, or chairs, all you need is a can of spray paint (or a brush and container of paint if you'd prefer) and a little time and you'll get a great new piece for your home and save something from going into a landfill.
Embroidery on an Old Tennis Racket
So, this one isn't quite as simple, but it's exceptionally adorable. If you happen to know how to embroider things and have an old wooden tennis racket sitting around (or find one at a garage sale), it makes the perfect combination.
Bicycle Wheel Planter
All you need for this one is a few pots for plants, some paint, and an old bicycle wheel. Paint everything your favorite color, and make an adorable outdoor decoration.
Stained-Glass Jar
Glass jars come free with a lot of different foods. But instead of just putting them directly into the recycling bin (or worse, the trash), all it takes is a little water-based paint to transform garbage into a beautiful piece for your house. You can give this as a gift, throw some flowers in it and call it a vase — so many options!
Bottle Lamp
https://www.instagram.com/p/CCrRIy1hq_t/?utm_source=ig_web_copy_link
If you've got an old wine or liquor bottle (I mean, who doesn't?), you can turn it into a functional lamp. This project requires a little more work (you're dealing with electricity, after all), but it's something you can actually use.
Old Window Frame into Picture Frame
Older wooden window frames are some of the most versatile upcycling items. You can turn them into mirrors, tables, or a really cool picture frame. You can paint the frame, or leave it in its original weathered condition.
Painted Records
Your parents may have an old record collection in their basement, or they're pretty easy to find at flea markets or used book stores. The circular shape, grooved texture, and dark background make it the perfect canvass for some art.
Wooden Crate Shelf
Back before cardboard and plastic were the shipping containers of choice, goods used to be sent in sturdy wooden boxes, usually with the name of the company painted on the side of it. If you can get your hands on some of these (or already have some at home), you can easily make some shelving or storage. Turn one wooden crate on its side, and you have a place to store books or records. Stack a few on top of each other and attach them together, and you have a tall, all-purpose shelving unit. Then, it's up to you to decide whether you paint to paint the shelves, or leave them in their original vintage
Skateboard Toilet Paper Dispenser
If you or your child has outgrown skateboarding, instead of throwing it away, take off the wheels, and turn it into a toilet paper dispenser. This works best with an older, wooden skateboard, though newer materials can always be painted.
Mini Can Gardens
Turn your seltzer addiction into some cute mini planters. Just cut off the top, add some dirt, and then put in a cutting from a plant that will grow on its own. These are perfect for the outdoors, your kitchen, or as teacher gifts.
Upcycle Ideas For Kids
Old Dresser Drawer Book Shelves
If you have a small dresser you're looking to retire, why not turn it into a cool bookshelf feature for kid's books? Deavita features the perfect example! All you'll need to do is remove the drawers and remove a few inches off the back. Paint them in different colors if you'd like or add any design feature that will blend well with the theme and decor of the room they'll be in. Nail them into the wall within arms reach of your kiddo and load up with books.
Milk Jug Toss
Not only is this upcycled craft super-easy, but it's also a great way to keep kiddos entertained. All you need is a gallon milk jug, some yarn, scissors, and duct tape. To start, you cut the bottom of the jug off. Tape around the cut-off bottom with duct tape to provide added structure. Use the yarn to make a pom-pom, and then run some yarn through the top to the bottom and tie. You'll also secure this to your pom-pom. That's pretty much it! The fun comes in swinging the pom-pom up and trying to catch it in your milk jug "mitt."
Toilet Paper Trains
Start saving your empty toilet paper rolls, because they're perfect for this upcycled craft. You'll need various crafting supplies — think cotton balls, glue sticks, scissors, paint, glitter, etc. — to decorate your toilet paper train cars. If you want to connect them so they'll move in unison, use string to tie them together.
LEGO Travel Case
You can score travel baby wipes containers for next to nothing, making this upcycled craft a cheapie any way you look at it. All you have to do is cut down a LEGO building plate (you probably have at least one at home right now) to fit inside the travel wipes case. Hot glue that sucker in there, then toss in some LEGO blocks and characters. The next time you need to entertain your kid while out to eat and don't have any tabletop restaurant games handy, this little gem will be your hero.
This article was originally published on