Vanessa Bryant Says Her Body 'Refuses To Accept' The Loss Of Kobe And Gianna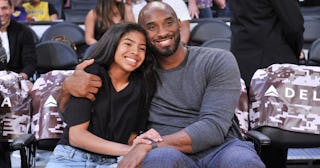 Allen Berezovsky/Getty Images
In a heart-shattering new post, Vanessa Bryant opens up about life without Kobe Bryant and daughter Gianna
Just over two weeks have passed since NBA legend Kobe Bryant tragically died in a helicopter crash, along with his 13-year-old daughter Gianna "Gigi" Bryant and seven others. And considering it's still hard to wrap our heads around the devastating news, we can hardly imagine how Vanessa Bryant — Kobe's wife and Gigi's mother — must feel. In a vulnerable new post, though, she conveys a fraction of the complicated emotions she's struggling with every day.
"I've been reluctant to put my feelings into words. My brain refuses to accept that both Kobe and Gigi are gone," she wrote on Monday, sharing a Slam magazine video of Kobe, Gigi and the teen's Mamba Sports Academy teammates who also perished in the crash. "I can't process both at the same time. It's like I'm trying to process Kobe being gone but my body refuses to accept my Gigi will never come back to me."
Vanessa continued, admitting that she's trying to work through both the guilt that often comes with surviving and the anger of a mother whose child was taken from her. "It feels wrong. Why should I be able to wake up another day when my baby girl isn't being able to have that opportunity?! I'm so mad. She had so much life to live," Vanessa shared.
https://www.instagram.com/p/B8ZavYwDZ5y/
But as Vanessa learns to live life without Kobe and Gigi, she must also remain present and focused for the sake of her and Kobe's other children: Natalia, 17, Bianka, 3, and Capri, 7 months. "Mad I'm not with Kobe and Gigi but thankful I'm here with Natalia, Bianka and Capri," Vanessa said, adding that she understands the emotional turmoil she's experiencing is "normal" and "part of the grieving process."
Of course, that doesn't make it any easier — which is precisely why Vanessa decided to open up, in the hopes that she might be a comfort to some other parent who feels alone in their time of loss.
https://www.instagram.com/p/B8Axc2Oj4pl/
"I just wanted to share in case there's anyone out there that's experienced a loss like this," she wrote. "God I wish they were here and this nightmare would be over. Praying for all the victims of this horrible tragedy. Please continue to pray for all."
In addition to Kobe and Gigi, the Jan. 26 crash claimed the lives of pilot Ara Zobayan, 50; Gigi's teammates Alyssa Altobelli, 14, and Payton Chester, 13; Alyssa's parents, John Altobelli, 56, and Keri Altobelli, 46; Payton's mother, Sarah Chester, 45; and basketball coach Christina Mauser, 38.
https://www.instagram.com/p/B8Rk8gHDUq7/
Vanessa spoke out about the losses for the first time on Jan. 29 when she thanked fans and followers for their support, understandably confessing there simply "aren't enough words" to describe her family's pain right now. But Vanessa is clearly also aware that her life from this point on will be a dichotomy of beauty and pain. Just this weekend, she shared a heartwarming video showing baby Capri learning to stand on her own.
A public memorial service for Kobe, Gigi, and the other crash victims will be held at the Staples Center in downtown Los Angeles on Feb. 24, or 2/24/20 — a date that has special significance for Vanessa. Two was the number Gianna wore on her sports jersey, 24 was the number of Kobe's jersey, 20 is the number of years he and Vanessa were together and how many years Kobe played for the Los Angeles Lakers.