55 Cozy & Creative Winter Date Ideas To Swoon Over All Season Long
by Team Scary Mommy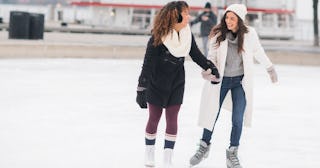 FatCamera/Getty Images
Winters don't have to be cold and depressing, especially when there's love in the air. In fact, the coziness that winter demands can bring couples closer together in more ways than one. But hey, we get it — when it's freezing outside, your brain might be a little sluggish. So, coming up with creative, fresh, and sexy winter date ideas could leave you feeling both flustered and blustered. Still, don't sleep on turning this time of year into a season of swooning. Rainy day dates and summer romance may get all the buzz, but winter dates will give you all the cozy feels.
If you're having a hard time deciding on date ideas for winter, though (whether it's your first date or your hundredth), we've got you covered. And since we're still living in a pandemic world, we made sure to include some COVID-19-safe date ideas for you and your SO, too.
Winter Date Ideas You'll Look Forward to All Year
Take a walk outside, before the snow turns into brown slush.
Make snowmen (and women!) and snow angels.
Throw an indoor picnic and create a special theme. Maybe it's based on a TV show you've recently watched, or a silly joke you both love.
Grab some snacks and load up for a drive-in movie.
Sign up for an online cooking class.
Make some hot cocoa, cozy up by the fire, and read to each other. (Bonus if it's steamy poetry.)
Go ice skating.
Decorate a Christmas tree together.
Have a board game date.
Have a Netflix movie marathon with your fave winter rom-coms, like The Holiday and Sleepless in Seattle.
Or, if you're more sporty than sentimental, cue up some classic ice skating movies.
Lace up and hit the rink for some ice hockey (or just go to a game!).
Go sledding.
Build and decorate a gingerbread house together… and try not to eat it while you're doing it.
Attend a fun online fitness class together.
Enjoy a DIY brewery hop.
Catch an improv or comedy show online.
Try your hand at a local trivia night. Want to stay home? Use this Christmas trivia.
Volunteer together — is there anything more heartwarming than helping others?
Go shopping for some super-cozy winter scarves and gloves.
Then bundle up and hit a local Christmas market.
Whip up a batch of snow cream (yum).
Go see a festive play or ballet! Favorites this time of year include A Christmas Carol and The Nutcracker.
Bake cookies for a virtual cookie exchange with friends.
Or, if you're feeling competitive, have a cookie baking contest!
Go on a winter hike.
One word: fondue.
Have a VR date! Visit a VR game room or toss a headset on at home and interact with each other in a virtual world.
Dust off the vintage video game consoles and Super Mario it up.
Host your own karaoke competition. If you just sing Christmas songs, even better.
Try a new winter activity, like ice fishing.
Learn how to make pasta from scratch.
Drive around to see the Christmas lights.
Create your own escape room game.
Hit up a comedy show.
Plan your next big trip.
Take advantage of all the free TED Talks available on YouTube and binge-watch to your brain's content.
Find a nearby indoor mini-golf and go for a hole-in-one.
See if you can get a strike at the bowling alley.
Create your own signature craft cocktails using whatever spirits you have at home.
Find a new podcast that you two can listen to together from the comfort of the couch.
Take a break from snuggling with each other to snuggle up to some puppies and kitties at the local animal shelter.
Get meaningful tattoos (and no, they don't have to be matching or each other's names).
Have a progressive dinner party.
Sign up for a painting class, either online or at a local art venue.
Flex your gaming skills — and see who can get the high score — at an arcade.
Get ahead of the gifting game by teaming up to wrap all of the presents you've bought so far.
Go camping.
If camping isn't your thing, make s'mores indoors instead.
Set up the telescope and take advantage of crisp, clear winter skies for stargazing.
Find your local indoor rock climbing gym and cheer each other on as you scale the wall.
Get busy with some fun puzzle games.
Or just get busy!
This article was originally published on