A-Rod's Rep Addresses Hangout With Ben Affleck's Ex Lindsay Shookus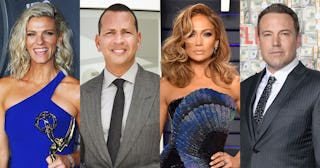 Albert L. Ortega/Rodin Eckenroth/FilmMagic/Axelle/Bauer-Griffin/FilmMagic/Noam Galai/Getty
Alex Rodriquez says he's just friends with Ben Affleck's ex Lindsay Shookus, which explains why he hung out with her over the weekend
Vaccines are here and celebrities are giving us the drama we crave. First up, the Ben Affleck, Jennifer Lopez, Alex Rodriguez, and now Lindsay Shookus relationship saga that is becoming the best damn reality show ever. As you know, Ben Affleck and Jennifer Lopez have rekindled their relationship after J.Lo ended her engagement to Alex Rodriguez, but now, A-Rod is, I guess, hanging out with Saturday Night Live producer Lindsay Shookus, who also used to date Ben Affleck. Celebrities, they're not like us at all because they apparently only know, like, five people to date!
Just so we get this all straight…Lopez and Affleck were engaged 17 years ago.
They broke up and Lopez went on to get engaged to Rodriquez, and we all know that they recently split.
Lopez is now dating Affleck again, who happened to date Shookus off-and-on from 2017 to 2019.
The latest is that over the weekend, Rodriguez was seen sitting next to Shookus in Instagram videos from what was apparently her birthday dinner.
I know, it's A LOT, stay with me.
It's alllll a little too coincidental for my taste, especially considering a source told People last month that Rodriguez was "not thrilled" about Lopez dating Affleck again. Also, Rodriguez is the same dude who posted cringey photos of Lopez on his Instagram just moments after they officially announced their breakup. The man knows how to get media attention, what can I say?
Rodriquez — whose hangout with Shookus seems a little on-the-nose and trolly to me, but whatever — confirmed (via his rep) that his hang with Shookus wasn't a targeted jab at Lopez and Affleck's new romance, but rather that he and Shookus have been friends for years! Okay!
"[Rodriguez and Shookus] have been friends for 15 years. There is nothing there at all," the rep explained to People this week.
All that seems fair enough, after all, Shookus is a high-profile woman who works at Saturday Night Live and seems to know a ton of famous people! Sounds like another tale of celebrities just dating and befriending within a super small pool of people, I guess?
As for Lopez and Affleck, a source told E! Online that "[Jennifer] wants to give it a shot with Ben. They never really had closure and she has always wondered what could have been. The timing was never right and they were in different places until now." A source close to the couple also told People that "Jennifer is still very excited about how things are going with Ben."