Fierce Names For Baby Girls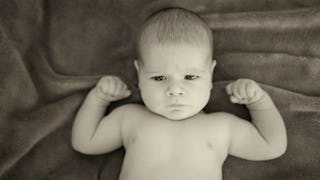 Looking for a strong baby name for your little one that will grow with her from the playground to the boardroom? It could be tricky. A girl name may sound fierce, but when you look up the definition, it may mean something quite the opposite of the vibe you're going for. We get it, you want your little one to exude strength, confidence, and be unique all at once. After all, there's only one of her in the world. You're also not alone in your search for a powerful name for your little sweetness.
RELATED: 155+ Boys Middle Names That Hit The Sweet Spot Of Unique And Traditional
Girls should be able to have their Sasha Fierce moments as well as their Beyonce ones, but finding the name that speaks to their strength and range can take a bit more brainpower. And that's OK because your little girl is unique. Give your daughter a name that pushes her into her power and tells the world she's not pulling any punches or falling for the okey-doke. A fierce name is the first step to setting the stage for the mighty woman she will become. According to the latest search data available, powerful and strong baby names for girls are searched for nearly 1,000 times a month.
RELATED: 110+ Unique Middle Names For Your One-Of-A-Kind Baby Girl
If you're feeling stumped by your search, look no further, we've gone ahead and done all the research and collating for you and reduced it down to some badass baby girl names guaranteed to stand out from the crowd.
Quotes to Consider
Looking for further inspo to give your little girl a fierce name? Search no more! Check out these quotes by famous figures who've shared these fierce monikers.
"Anytime I feel lost, I pull out a map and stare. I stare until I have reminded myself that life is a giant adventure, so much to do, to see." — Angelina Jolie
"Real courage is when you know you're licked before you begin, but you begin anyway and see it through no matter what." — Harper Lee
"We delight in the beauty of the butterfly, but rarely admit the changes it has gone through to achieve that beauty." — Maya Angelou
"You gain strength, courage, and confidence by every experience in which you really stop to look fear in the face. You are able to say to yourself, 'I lived through this horror. I can take the next thing that comes along.' You must do the thing you think you cannot do." — Eleanor Roosevelt
"Leave one wolf alive and the sheep are never safe." — Arya, Game of Thrones
"When haters go after your looks and differences, it means they have nowhere left to go. And then you know you're winning!" — Greta Thunberg
"Ships at a distance have every man's wish on board. For some they come in with the tide. For others they sail forever on the same horizon, never out of sight, never landing until the Watcher turns his eyes away in resignation, his dreams mocked to death by Time. That is the life of men. Now, women forget all those things they don't want to remember and remember everything they don't want to forget. The dream is the truth. Then they act and do things accordingly." — Zora Neale Hurston, Their Eyes Were Watching God
Curious to know more about your family name and the last names and meanings of other countries, check out our package on last names from around the world. See how many you recognize: Irish, French, Russian, Spanish, Mexican, Brazilian, Portuguese, Italian, and African last names, among others.
Adira
Aleksandrina
Alexsus
Aliza
Angelina
Arya
Astrid
Athena
Bellatrix
Blake-unisex
Blaze
Bo
Bonnie
Bristol
Cara
Carly
Cersei
Daleyza
Danica
Daryl
Delta
Diamond
Dusty
Dylan-unisex
Eleanor
Eliza
Ember
Eos
Erin
Farrah
Freya
Gio
Greta
Harley
Harlow
Harper
Harvey
Hunter-unisex
Inara
Isla
Ivy
Jude
Justice
Kailani
Keturah
Koda
Kyra
Layla
Leia
Lilith
Liv
Lola
Luna
Mara
Margot
Maya
Michonne
Morgan
Nazayia
Neema
Nia
Nora
Nova
Onyx
Ophelia
Phoenix-unisex
Piper
Raven
Rian
Ridley
Roxy
Sable
Sarai
Shadow
Shiloh
Sloan
Sloane
Tallulah
Trinity
Vada
Valkyrie
Wren
Xiomara
Zara
Zia
Zola
Zora
Zuri
This article was originally published on