Boy Names That Mean Strong, Brave, And Powerful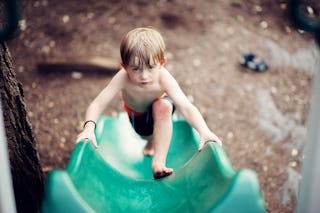 heatherwalker/Getty
If you believe a name's meaning can bestow its qualities upon the bearer, you've come to the right place: these boy baby names that mean strong, brave, or powerful will make your little man into a Superman. These names evoke strength, convey a valiant soul, and make quite the first impression. And if you think you're the only one searching to allude to power in your baby's name, you're wrong. According to the latest search data available, strong boy names are searched for over 27,000 a month. See, Mama, you're not alone.
It's a wild world out there, and as a mama, you want to be able to protect your little one in all areas of their lives. It's important for your son to be physically and emotionally strong and having the right name could help. Of course, names aren't a magical token that guarantees protection, but it is inspiring to have a name that means brave or powerful. Your name carries a lot of weight, and the ones we have listed below are definitely worth living up to. For many people, the connection to their name is a reflection of their identity. It's one of the first things people learn about you, so why not help your kid off to a strong start (yes, pun intended) and give them a name that embodies the kind of man you want them to become?
It makes sense, too, that you (and tens of thousands of other mamas) would want to give your little one a name that conveys strength. After all, a 2017 study published in the Journal of Personality and Social Psychology suggests that a name can actually affect the way a person is perceived by others. When a child is named, that name comes with various social expectations and inferences. So, the social attitude toward that name — so, for instance, the expectation that an Alexander is strong — may actually influence the perception the child has of themself. What's more, the study showed that perception could even shape the development of their appearance. It's like a self-fulfilling prophecy. So with that in mind, we've gone ahead and done the research for you. Ahead, are the names that will be perfect for your little Tiger, Patrick, or Liam.
Need more baby name ideas for your little tot? We've got comprehensive lists for Disney character names, middle names for boys, middle names for girls, last names as first names for boys, nicknames as first names for your little Ace, and so much more!
Classic Tough Guys
Need more inspiration to name your strong little man? Run through this shortlist of famous tough guys. Your Hollywood fav is probably listed below.
Hugh Jackman
Danny Trejo Sylvester Stallone Dolph Lundgren
Curious to know more about your family name and the last names and meanings of other countries? Check out our package on last names from around the world. See how many you recognize: Irish, French, Russian, Spanish, Mexican, Brazilian, Portuguese, Italian, and African last names, among others. Naming a baby can be scary. We can help! Check out our baby name database.
Aiden
Alexander
Andrew
Angus
Asher
Barrett
Brian
Casey
Conrad
Dustin
Emeric
Emery-unisex
Ethan
Everett
Ferdinand
Garrett
Gerard
Griffin
Jabari
Jarrett
Kendrick
Kenzo
Liam
Louis
Merrick
Montana
Nero
Patrick
Richard
Riley-unisex
Tiger
Valentino
Wyatt
This article was originally published on