Fab Four-Letter Names For Girls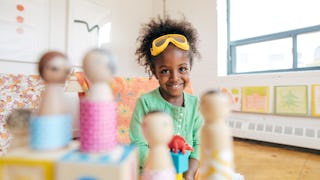 kate_sept2004/Getty
If you're looking for four-letter names for girls, we've got the list "four" you! Four little letters can make one big statement; try these 4-letter favorites on for size. Need further proof that such a short name can make for one major personality? Well, let's consider some women in history who've made four-letter names famous: Jane Goodall (primatologist), Lena Horne (singer and actress), Maya Angelou (poet/writer), Rosa Parks (activist), Zora Neale Hurston (author, anthropologist, filmmaker)… the list goes on!
Just because your kid's name is made of up four letters does not mean that it packs any less punch. Mini names are just as mighty and the aforementioned names prove it. Apparently, short named girls have a knack for making history, which isn't such a bad thing. But seriously, if you want to save your princess time and give her an easy kindergarten experience when it comes to spelling her name we have a bunch of options for you to choose from. Your child will thank you for the time saving title. You also won't have to worry about the teacher or anyone else mispronouncing or misspelling her name because shorter names leave less room for typos. There is nothing more annoying than seeing your kiddo's name spelled wrong.
Four letter names also come in handy if your child is looking for a catchy and cool way to brand or market herself for her business or social media platform. She'll have way more options when it comes to creative branding with a name like Anna or Hope.
Need more baby name ideas for your little tot? We've got comprehensive lists for middle names for boys, one-syllable names, unique names for girls, last names as first names, Disney character names, nicknames as first names for your little Ace, and so much more!
Curious to know more about your family name and in the last names and meanings of other countries, check out our package on last names from around the world. See how many you recognize: Irish, French, Russian, Spanish, Mexican, Brazilian, Portuguese, Italian, and African last names, among others.
Naming a baby can be scary. We can help! Check out our baby name database here.
Abby
Adia
Aiko
Aine
Alia
Alma
Alto
Alva
Amal
Amia
Amie
Amma
Amya
Andi
Anna
Anne
Anya
Aqua
Aria
Arie
Arya
Asha
Asia
Audi
Aura
Avah
Avis
Ayan
Ayla
Bebe
Beck
Bess
Beta
Beth
Blue
Bria
Brie
Brio
Bryn
Cali
Cara
Cary
Cher
Cleo
Coco
Cora
Dana
Dani
Dara
Dawn
Daya
Dell
Demi
Desi
Dior
Diya
Dove
Eden-unisex
Edna
Eira
Éire
Elia
Elin
Ella
Elle
Elon
Elsa
Emme
Emmy
Enid
Erin
Esme
Etta
Evie
Fawn
Faye
Fern
Fila
Gaia
Gigi
Gray
Gwen
Hana
Hedy
Hope
Iman
Indy
Inez
Iris
Isla
Ivey
Ivvy
Izar
Jada
Jade
Jady
Jana
Jane
Java
Jazz
Jess
Joan
Jojo
Jude
Judy
Juna
June
Juno
Kace
Kaia
Kali
Kama
Kara
Kate
Kaui
Kaya
Kiki
Kira
Kora
Kori
Kyla
Kyra
Lake
Lana
Lara
Lark
Leaf
Leah
Leda
Leia
Lena
Lera
Lexa
Lexi
Lian
Lila
Lily
Lina
Lisa
Lois
Lola
Lori
Love
Lucy
Lulu
Luma
Lumi
Luna
Lyla
Lynx
Lyra
Lysa
Maci
Macy
Maia
Mara
Mary
Mavy
Maya
Mele
Miah
Mica
Mila
Mimi
Mina
Mira
Miya
Moss
Myah
Myla
Myra
Nala
Nani
Navy
Naya
Neha
Nike
Nina
Nola
Nomi
Noon
Noor
Nora
Nori
Nova
Nyla
Onyx
Opal
Orla
Park
Plum
Poet
Posy
Quill
Rabi
Rain
Rani
Raya
Reef
Remi
Remy
Rene
Rhea
Rita
Riya
Rome
Rory-unisex
Rosa
Rose
Roxy
Ruby
Rudy
Ruth
Rysa
Saga
Sage-unisex
Sara
Shay
Shea
Shel
Shell
Siri
Skye
Snow
Star
Suvi
Tara
Teal
Teva
Thea
Tina
Toby
Tori
Tory
True
Vada
Veda
Vera
Vesa
Vida
Vivi
Will
Willa
Wren
Wynn
Yael
Yara
Zara
Zena
Zoey
Zoie
Zola
Zora
Zuri
Zuzu
This article was originally published on