Girl Names That End In "Y"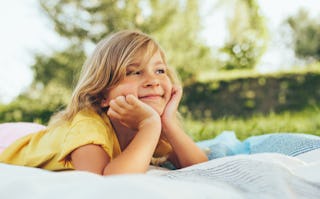 Yuricazac/Getty Images
What's exceptionally lovely and really spunky too? Girl names ending in "y," of course! There are traditional choices like Audrey and Hedy, Judy and Jenny — and then there are the more contemporary girl names ending in y, new favorites like Ensley, Jady, Kinley, and Macy. But how do you choose a unique name that will be perfect for your little peanut? Will it go with her middle name and last name? Have you considered nicknames as names? Those tend to always end with the diminutive -ie or -ey so you might have more options to choose from than you think — Kylie Jenner straight up called her daughter Stormi for this very reason.
What about a nickname as a first name? Hear us out, most names have that -ie or -ey added as a diminutive for a nickname. But what if, gasp, you just gave a nickname as the name? Either way, you're not alone in your thinking and search on that one. According to the latest search data available, girl names that end in "Y" are searched for nearly 3,000 times per month. You're in good company, Mama.
And speaking of last names, have you thought of using a surname as a first name? There are many popular surnames that end with -y, so you're in luck there. You should also consider names from a myriad of backgrounds, just make sure you do research on the deeper meanings and origins to educate yourself. After all, when your little girl asks you about the meaning of her name, you want to be able to explain just why it was the perfect name for her. No matter what kind of Y-name you're looking for, we can help you make it "really easy!"
Quotes to Consider
If you're looking for further inspiration to give your daughter one of these names, consider these wise words by famous figures whose names end in -y.
"Pick the day, and enjoy it to the hilt — the day as it comes, people as they come. The past, I think, has helped me appreciate the present… and I don't want to spoil any of it by fretting about the future." — Audrey Hepburn
"Hope is the thing with feathers that perches in the soul and sings the tunes without the words and never stops at all." — Emily Dickinson
"Write your own part. It is the only way I've gotten anywhere. It's much harder work, but sometimes you have to take destiny into your own hands. It forces you to think about what your strengths really are. And once you find them, you can showcase them, and no one can stop you." — Mindy Kaling
"The greatest showman quote: You don't need the whole world to love you — just a few good people." — Charity Barnum
"I've always followed my heart and pursued my dreams, and I imagine that people find that inspiring. I hope that is the effect I have on my fans and people in general. I definitely want to project a positive energy out into the world." — Britney Spears
"When you get to know a lot of people, you make a great discovery. You find that no one group has a monopoly on looks, brains, goodness, or anything else. It takes all the people – black and white, Catholic, Jewish and Protestant, recent immigrants and Mayflower descendants — to make up America." — Judy Garland
"Honestly, I just think we all have special gifts, everyone. You know, obviously, some are more noticeable than others and that's why there's the limelight. Everybody's in it." — Kelly Clarkson
"Beauty is grace and confidence. I've learned to accept and appreciate what nature gave me." — Lindsay Lohan
"I am a big believer that eventually everything comes back to you. You get back what you give out." — Nancy Reagan
Other Baby Name Ideas
Need more baby name ideas for your little tot? We've got comprehensive lists for Disney character names, middle names for boys, middle names for girls, last names for boys, and so much more!
Curious to know more about your family name and the last names and meanings of other countries? Check out our package on last names from around the world. See how many you recognize: Irish, French, Russian, Spanish, Mexican, Brazilian, Portuguese, Italian, and African last names, among others.
Naming a baby can be scary. We can help! Check out our baby name database here.
Abby
Adley
Amadahy
Amarey
Amity
Amy
Andry
Arely
Ashley
Aubrey
Audrey
Avery-unisex
Bailey
Bay
Bellamy
Berkeley
Bethany
Betsy
Betty
Beverly
Bexley
Blakely
Brinkley
Brinley
Brittany
Bunny
Camry
Candy
Carbry
Carly
Cary
Casey
Cassidy
Charity
Charley
Charsley
Chastity
Chauncey
Courtney
Crosby
Daisy
Dalary
Daveney
Delaney
Destiny
Dusty
Elegy
Ellery
Emberly
Embry
Emily
Emmy
Emory
Ensley
Everly
Finley-unisex
Gentry
Gilly
Ginny
Glory
Grey
Hadley
Hailey
Haisley
Haley
Harley
Hartley
Hayley
Heavenly
Hedy
Henley
Hilary
Holiday
Holly
Honesty
Honey
Icy
Indy
Ivory
Ivvy
Ivy
Jady
January
Jenny
Jersey
Jetty
Jordy
Journey
Joy
Judy
Kailey
Kassidy
Keeley
Keily
Kelly
Kelsey
Kenley
Kennedy
Kensley
Kerry
Kimberly
Kinley
Kinsley
Knightley
Lacey
Lainey
Landry
Lily
Lindsay
Lindsey
Loxley
Lucy
Macy
Maeby
Mallory
Mandy
Margaery
Marley
Mavy
Mckinley
Melany
Melody
Mercy
Miley
Mindy
Misty
Monday
Nancy
Nataly
Navy
Oakley-unisex
Paisley
Pansy
Peggy
Penny
Peony
Perry
Polly
Poppy
Presley
Quinley
Rally
Remy
Ridley
Roxy
Royalty
Rudy
Sally
Sandy
Savvy
Serenity
Shay
Sky
Stacy
Story
Sunday
Sunny
Sydney
Taffy
Tansy
Teddy
Tenley
Terry
Tiffany
Tinley
Tinsley
Toby
Tory
Trinity
Valley
Verity
Waverly
Wednesday
Wellesley
Wendy
Whitley
Whitney
Zoey
This article was originally published on