The PrettIEst Baby Girl Names Ending In -ie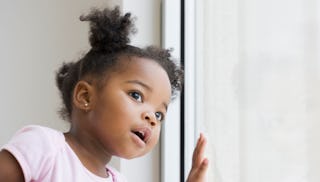 JGI/Jamie Grill/Getty
From Alcie to Zoie, there's a whole alphabet of cute and quirky baby girl names ending in "-ie." In fact, some might prefer that suffix as most nicknames add -ie to names as a cute diminutive — think Northie for North West. So why not give your baby girl a sweet name that already includes the diminutive. Luckily, we've gone ahead and done all the research for you. Add these baby girl names to your growing list of options.
Some of the cutest names have an "-ie" ending and even if they don't, family members and loved ones always find a way to squeeze it in. Names like Haley or Kaylee have an endearing and lovable tone that produces an air of cuteness. Although we can't quite figure out why, haven't you noticed in movies, the name of the younger adorable sister or character usually shares this type of name? Is it adorable because it rhymes with the word baby? We're sure there's a deep sociological reason behind this naming mystery, even if we can't put our finger on it. Whatever the reason, names like this tend to make babies look ten times cuter, which seems impossible but give it a try and you'll see.
Another thing to love about baby girl names ending in "-ie"? They have an inherently old-fashioned ring to them. And while baby name trends are cyclical, old-fashioned baby names have rolled back around and don't seem to be going anywhere, anytime soon. Each year, the Social Security Administration releases a list of the most popular names in the U.S. for a given year, and in recent years, old-fashion-sounding names have dominated. Among them? Some of our "-ie" names, like Ellie (No. 35), Natalie (No. 41), and Sophie (No. 86). A cursory look over the list makes it abundantly clear that the vintage baby-naming trend has taken hold.
Quotes to Consider
If you're looking for further inspiration to give your daughter one of these names, consider these wise words by famous figures whose names end in -ie.
"I've always had confidence. It came because I have lots of initiative. I wanted to make something of myself." — Eddie Murphy
"Love is like a faucet, it turns off and on." — Billie Holiday "The more people love you, the more there's going to be people that hate you." — Kylie Jenner "A hug is always the right size." — Winnie the Pooh
Need more baby name ideas for your little tot? We've got comprehensive lists for middle names for boys, unique names for girls, last names as first names for boys, nicknames as first names for your little Ace, and so much more!
Curious to know more about your family name and the last names and meanings of other countries, check out our package on last names from around the world. See how many you recognize: Irish, French, Russian, Spanish, Mexican, Brazilian, Portuguese, Italian, and African last names, among others.
Naming a baby can be scary. We can help! Check out our baby name database here.
Abbie
Abelie
Abrie
Addie
Adélie
Alcie
Allie
Amelie
Amie
Angie
Annie
Aubrie
Averie
Billie
Birdie
Bonnie
Callie
Charlie-unisex
Cherie
Cookie
Coralie
Dannie
Donnie
Eddie
Elodie
Emmie
Gracie
Hallie
Hattie
Jackie
Jamie
Jessie
Jovie
Julie
Junie
Kallie
Karlie
Katie
Kaylie
Kylie
Lannie
Leonie
Leslie
Lexie
Lillie
Lizzie
Macie
Maggie
Maisie
Marie
Marjorie
Mckenzie
Melanie
Minnie
Natalie
Nellie
Prairie
Robbie
Ronnie
Sophie
Stephanie
Stevie
Sylvie
Tillie
Valerie
Valkyrie
Winnie
Zadie
Zoie
This article was originally published on