Yee-Haw! Boy Names That Are A Little Bit Country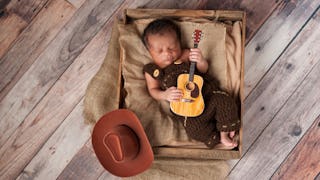 katrinaelena/Getty Images
Country music has a way of warming your soul, and a sweet southern name can do the same. Often cities get the reputation of being exciting, but the country can be just as riveting. The culture and experiences that rural life offers teaches strength, patience, community and its breathtaking views are enough to make your heart skip a beat. So give your little boy a name that evokes comfort and hometown feels. From country singers to Southern cities, country-inspired names are popular wherever you go (hello, how many Austins are in your kid's preschool class?). So we've gone ahead and done all the baby name searching for you with these boys' names with a rustic, rugged, down-home feel.
Perhaps you're looking for a cool middle name to accompany a family name? Are you into geography and want to use the name of a famous country town? Think Nashville, Houston, maybe even Phoenix. Or maybe you want to go full Western? Whatever it may be, you're not alone in that one. According to the latest search data available, country names are searched for nearly 3,600 times a month. So if you're looking for a country name that fits as well as a pair of broken-in cowboy boots, check out this list of our favorites.
Quotes About Country Life
Looking for more inspiration to give your little cutie a country-inspired name? Check out these quotes.
"The country does what the city cannot. It quietens the mind and brings simplicity into one's life. The city does what the country cannot. It enlivens the mind and brings culture into one's life." — Donna Goddard
"One gets sensitive about losing mornings after getting a little used to them with living in a country. Each one of these endlessly varied daybreaks is an opera but once performed." — Nathaniel Parker Willis
"There is a vast deal of make-believe in the carefully nurtured sentiment for country life, and the barefoot boy, and the mountain girl." — Agnes Repplier
"Being in the country is like being in a dream, one doesn't quite know who one is. There is an anonymity to it all, that strange human creature that is me, one among all." — Meia Geddes
"Cow dung and horse dung, as muck goes, are relatively agreeable. You can even become nostalgic about them. They smell of fermented grain, and on the far side of their smell there is hay and grass." — John Berger
"Being in the country is like being in a dream — one doesn't quite know who one is. There is an anonymity to it all — that strange human creature that is me, one among all." — Meia Geddes
"There's nothing like the peace of the countryside, the quiet and the lack of distraction. It helps you to focus your mind." — Jenny Nimmo
"Two things revolutionized life: moving to the countryside and falling in love." — Nick Love
Country-Named Personalities
Where better to look for inspo for your little country cutie than people who've proudly carried country names? Here are a few examples of celebrities who seem to embody this naming trend.
Denver Pyle
Dallas Roberts Darius Rucker Willie Nelson Garth Brooks Wyatt Earp Hank Williams Jr. Tennessee Ernie Ford Waylon Jennings
Need more baby name ideas for your little tot? We've got comprehensive lists for last names as first names, nicknames as first names for your little Ace, and so much more!
Curious to know more about your family name and the last names and meanings of other countries, check out our package on last names from around the world. See how many you recognize: Irish, Russian, Spanish, Mexican, Brazilian, Portuguese, Italian, and African last names, among others.
Naming a baby can be scary. We can help! Check out our baby name database.
RELATED: Yes, My Kids Have Weird Names — So What?
Austin
Beau
Billy
Blake
Blake-unisex
Blaze
Bo
Bobby
Boone
Branson
Brantley
Brock
Brooks
Bryan
Bryce
Buck
Buddy
Butch
Carson
Carter
Casey
Cash
Charlie
Chase
Clayton
Clyde
Cody
Colt
Colton
Cristian
Cyrus
Dakota
Dallas
Dallas-unisex
Derrick
Dixon
Donald
Donel
Duke
Dusty
Earl
Easton
Eugene
Everett
Ford
Forrest
Gatlin
Gene
George
Gilbert
Grady
Granger
Hank
Hardy
Harlan
Harold
Harrison
Hawk
Hayes
Henry
Houston
Huck
Hunter
Hunter-unisex
Jack
Jackson
James
Jesse
Joe
Jonathan
Landry
Lane
Lawson
Layne
Lee
Logan
Mack
Mason
Memphis
Mick
Nash
Neil
Nelson
Oakley
Oakley-unisex
Otis
Porter
Randy
Ranger
Ray
Reed
Remington-unisex
Rhett
Rhodes
Ricky
Ridge
Riggs
Rocky
Roscoe
Sawyer
Shepherd
Shiloh
Sonny
Sterling
Stetson
Stone
Tanner
Thatcher
Timber
Toby
Trace
Travis
Tucker
Wade
Walker
Waylon
Wayne
Weston
Wilder
Will
Willie
Wolf
Wyatt
Zane
This article was originally published on