40+ California Quotes That Capture The Essence Of The Golden State
by Team Scary Mommy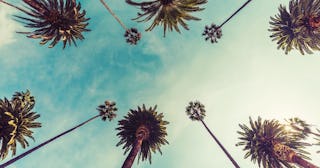 marchello74/Getty
Between the sandy beaches, the year-round perfect weather, the glitz, glamour, and culture, California is about as dreamy as you can imagine. In fact, The Mamas & The Papas were right on the money with their iconic '70s ballad — "California Dreamin'" is not just a mantra, it's a state of mind. Which is why so many native Californians and transplants (hello, Hollywood!) are so enamored with their home state and the beauty and nature it offers. From famous songs to actors to writers, this majestic state at the foot of the Pacific ocean has inspired countless sayings, quotes, and jokes, some of which we have rounded up here.
From quotes about Los Angeles, San Francisco, and even Malibu, if you're looking for your next Instagram caption or just to get in that relaxed Cali mood, you've come to the right place.
Looking for more quotes that capture the moment? Check out our packages on growing up, honesty, and friendship!
1. "California, where the spring comes in the fall and the fall comes in the summer and the summer comes in the winter and the winter never comes at all." — Inez Haynes Irwin
2. "California to me, as a concept or as an idea, always seems like endless optimism and endless opportunity. When people think of California, they think of palm trees and blue skies and gorgeous sunsets and beaches and everything else." — Mark Hoppus 3. "California is always in my mind." — David Hockney 4. "California: bordering always on the Pacific and sometimes on the ridiculous. So, why do I live here? Because the sun goes down a block from my house." — George Carlin 5. "You could travel the world, but nothing comes close to the golden coast." — Katy Perry, "California Gurls" 6. "Los Angeles? That's just a big parking lot where you buy a hamburger for the trip to San Francisco." — John Lennon 7. "I left my heart in San Francisco." — Tony Bennett 8. "When I came to California, it was the mecca of the world. Every young person on the planet wanted to be here." — Joni Mitchell 9. "I'm California dreamin', on such a winter's day." — The Mamas & The Papas 10. "California girls We're unforgettable. Daisy dukes, bikinis on top. Sun-kissed skin, So hot, we'll melt your popsicle." — Katy Perry 11. "There are so many different challenges California has; it's the greatest state in the greatest country in the world. Hasta la vista, baby!" — Arnold Schwarzenegger 12. "Los Angeles has no seasons, so it's kind of hard to keep track of time here. The lines between spring, summer, fall, and winter all blur like my vision. I get stuck on repeat for different measures of eternity." — Kris Kudd 13. "Why don't you go on west to California? There's work there, and it never gets cold. Why, you can reach out anywhere and pick an orange. Why, there's always some kind of crop to work in. Why don't you go there?" — John Steinbeck 14. "San Francisco is 49 square miles surrounded by reality." — Paul Kanter 15. "In Los Angeles, everyone is a star." — Denzel Washington 16. "I love Los Angeles. It reinvents itself every two days." — Billy Connolly 17. "There may not be a Heaven, but there is San Francisco." — Ashleigh Brilliant 18. "When California was wild, it was the floweriest part of the continent." — John Muir 19. "You are fortunate to live here. If I were your president, I would levy a tax on you for living in San Francisco." — Mikhail Gorbachev 20. "California is beautiful to look at, but you can't be a part of it like you can in Michigan." — Jennifer Granholm 21. "But here I am, next to you. The sky is more blue, in Malibu." — Miley Cyrus 22. "Hooray for Hollywood." — Doris Day 23. "You haven't lived until you've died in California." — Mort Sahl 24. "Anyone who doesn't have a great time in San Francisco is pretty much dead to me. You go there as a snarky New Yorker thinking it's politically correct, it's crunchy granola, it's vegetarian, and it surprises you every time. It's a two-fisted drinking town. A carnivorous meat-eating town. It's dirty and nasty and wonderful." — Anthony Bourdain 25. "I think northern California is the most beautiful place on earth. And I adore New Orleans, but there's something about the air in SF, for instance. It changes from moment to moment, like one's thoughts." — Hilton Als 26. "It's an odd thing, but anyone who disappears is said to be seen in San Francisco." — Oscar Wilde 27. "I'm your biggest fan, California, I'm coming home." — Joni Mitchell 28. "Made up my mind, make a new start Goin' to California with an achin' in my heart Someone told me there's a girl out there With love in her eyes and flowers in her hair." — Led Zeppelin, "Going to California" 29. "Dean's California — wild, sweaty, important, the land of lonely and exiled and eccentric lovers come to forgather like birds, and the land where everybody somehow looked like broken-down, handsome, decadent movie actors." — Jack Kerouac, On the Road 30. "You got that special kind of sadness. You got that tragic set of charms that only comes from time spent in Los Angeles, makes me wanna wrap you in my arms." — Dawes 31. "Best way to live in California is to be from somewhere else." — Cormac Mccarthy 32. "We only have two kinds of weather in California, magnificent and unusual." — James M. Cain 33. "I'd rather be in prison in California than free anywhere else." — Inez Haynes Irwin 34. "It's the easiest thing in the world to get to California — you just aim yourself west and start walking." — Rae Carson 35. "Where is Hollywood located? Chiefly between the ears. In that part of the American brain lately vacated by God." — Erica Jong 36. "Everything is just better in California — the wine, the food, fruits and vegetables, the comforts of living. Even the instrumentalists are generous and curious. Everything is wonderful." — Beth Anderson 37. "It seemed like a matter of minutes when we began rolling in the foothills before Oakland and suddenly reached a height and saw stretched out ahead of us the fabulous white city of San Francisco on her eleven mystic hills with the blue Pacific. And its advancing wall of potato-patch fog beyond, and smoke and goldenness in the late afternoon of time." — Jack Kerouac 38. "Like so many named places in California, it was less an identifiable city than a grouping of concepts — census tracts, special purpose bond-issue districts, shopping nuclei, all overlaid with access roads to its own freeway." — Thomas Pynchon 39. "If California is a state of mind, Hollywood is where you take its temperature. There is a peculiar sense in which this city existing mainly on film and tape is our national capital, alas, and not just the capital of California. It's the place where our children learn how and what to dream and where everything happens just before, or just after, it happens to us." — Ross Macdonald 40. "I suddenly realized I was in California. Warm, palmy air — air you can kiss and palms." — Jack Kerouac 41. "Santa Barbara is pleasant. It's heaven, but with a bit more traffic." — Matt Hai
This article was originally published on