36 Hacks And Packing Checklist For Your Next Camping — Or Glamping — Trip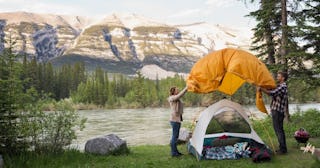 Hero Images/ Getty Images
Camping: It's like being at home except without the walls, roof, climate control, or electricity. Preparing and packing for a camping trip can be daunting. No minivan or crossover can possibly hold everything you want to bring so here's a list of absolute necessities, a reminder of things we always forget, and some bonus ideas that might just make your outdoor adventure a little more comfortable.
RELATED: The Best Family Tents For Camping, Including One That Fits 16 People
The worst thing about camping is realizing you left an item you need at home. With our list, you won't have to worry about forgetting important gear, like wet wipes or hand sanitizer. You can leave civilization confident you have everything you need to survive the outdoors. So, whether you're glamping or camping, we know what it takes to have a good time.
Camping Trip Must-Haves
1. Shelter
You can "glamp" or go more primitive. Whatever you choose, though, make sure to have something to cover you during inclement weather. 2. Seasonal attire Know the climate for where you're traveling. Tennessee in November may not seem to warrant a winter coat, but you might regret that decision if you venture up into the mountains. Remember: There's no bad season to travel as long as you pack the right clothes. 3. Snacks (and a bear-proof food safe) If you plan on hiking, protein is particularly important. This can come in the form of peanut butter, jerky, or protein bars. 4. Water Gatorade is great. However, nothing hydrates like water. Remember that the higher in altitude you go, the more water your body loses. 5. Map Seriously. Don't count on using just your cell phone for navigation. 6. Fire-starter There are multiple ways to start a fire and none of them require too much space in a backpack. Consider taking along both matches and a lighter. 7. Sleeping bag 8. Sleeping mat Don't camp without this extra bit of padding. Those sleeping bags with built-in air mattresses make camping a million times better, too. Just don't forget a battery-operated or chargeable air pump. 9. Knife With the right knife, anything is possible. Heck, you might even Chuck Norris your way out of precarious situations. 10. Shovel and toilet paper Unless you have bathroom facilities near your campsite, you're going to want to bury that BM. 11. Chair Campfire chats are meant to last into the night but ain't nobody got time for that when their butts are cold, damp, and achy from sitting on the ground. 12. Light A headlamp is great for late night trips to use the bathroom. A small, battery operated lantern is also helpful. (Hack: Putting a headlamp around a jug of water also makes for a makeshift lantern.) 13. Cooking set If you'll be hiking from campsite to campsite each day, go for something light-weight. If you're staying put, consider opting for a cast-iron skillet — they're a lot heavier but offer better flavor and you can do a lot of things with just one skillet. 14. Instant coffee or tea bags Because caffeine. 15. Meals Consider some make-ahead meals/treats. Or just some cans of stew and tuna and some bread and peanut butter. Or, if you're feeling really adventurous, pick up some MREs at your local Army Surplus Store. 16. Hand sanitizer 17. Wet wipes 18. Toiletries Before you head out, hit a camping or outdoor store and try to get as many biodegradable or environmentally friendly options as possible so you can feel clean and be green all at the same time.
Don't Forget These Essentials
19. Extra batteries
Leave them in your car, if you can. But, definitely bring them. 20. Fishing pole, book, other fun things to do You can't hike all the time. 21. Trash bags and grocery bags 22. First aid kit 23. Sunscreen 24. Bug repellent Get the kind that's good for ticks, too. 25. Duct tape Duct Tape really can fix almost any issue. Boots rubbing a blister? Put duct tape over the sore, red spot. A crazy windy night shatter a tent pole? Tape that sucker back together. 26. Water filtration system 27. Oven mitt If you're cooking over an open flame, your cookware is going to get super hot. You don't want to try to treat a burn while stationed in the middle of nowhere. 28. Can opener Every home has at least 3 can openers — the one that came with your first kitchen set, the one your significant other bought because they didn't like the one you had, and at least one more you bought while camping/traveling because you forgot to bring one from home. 29. Cell phone power bank It's a lot easier, cheaper, and better for the environment to use a power bank rather than to run your engine to charge your phone.
Make Camping Easier With These Tools
30. Glow sticks
These come in handy if you find yourself hiking after dark. They also work great to hang on the corners of your tent and situate alongside your tent-stakes because they illuminate the area and will help you avoid any late night bumps. Worst case scenario? You can host a rave on your last night out. 31. Pool noodles These are great to cover tent tie-downs or RV awning supports because big, foam noodles add cushioning and create extra visibility. 32. Hand warmers/ThermaCare Patches Even in July, places like North Dakota can get a bit nippy in the evenings. You can use hand warmers while out and about, or pop them in your socks at night for some added warmth. Cracking a few of those ThermaCare patches and putting them in your sleeping bag 10-15 minutes before going to bed will also make bedtime a little more snuggly. 33. Corn chips Too damp to collect real kindling? Those Doritos will work great. 34. Sage bundles Snuff out bad auras and repel mosquitoes by tossing a bundle into the fire or letting it (safely) smolder nearby. 35. Spring for the double sleeping bag Wanna stay warm? "Shacking up" with your SO will double your body heat in the sleeping bag which will keep things nice and cozy. 36. Biodegradable trail tape/Hunters' Tree Tags Please don't get lost.
Overwhelmed? No list in the world will ever prepare you for every encounter. You've got this, though. Camping is all about the mindset — be determined to have fun and you absolutely will.
This article was originally published on