Vroom! Vroom! These Car Coloring Pages Are Perfect For Your Future Gearhead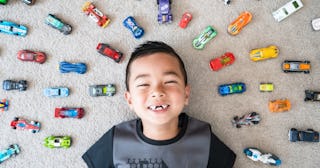 Nazar Abbas Photography/Getty Images
Kids are wonderful creatures. However, sometimes you need a few minutes of peace so you can take that Zoom call, make yourself a damn sandwich, or just take a long, hot shower. If you can trust your kids with crayons, coloring pages are a great DIY kids' activity that requires very little supervision. And these car coloring pages are especially fun for little ones who are obsessed with all things car-related.
Not that you have to leave them to color on their own! While coloring can easily be a quote-unquote activity done unsupported by an adult, it doesn't have to be. Coloring fosters your kid's self-control, focus, and memory. Believe it or not, it actually helps adults with those same skills. Sure, you could use some adult printables. But, you could also just print out duplicates of the pages below and work on the same thing. Use the time to talk about what you're coloring and imagine the scenes and scenarios around each picture.
The best way to develop your kiddo's imagination is to ask them questions and encourage them to go further. When they suggest the race car is at the racetrack, ask where else it could be. If the family is going on a road trip, ask them where they'd like to travel and why. The more questions you ask, the more you push them to explore their own thoughts.
Free Car Coloring Pages
1. Jeep
Beep! Beep! Who's got the keys to my Jeep? Your little nature girl or truck-obsessed boy will love this Jeep. It's just waiting to be customized. Fun fact: At 120 miles per hour, a modern Formula One car can drive upside down in a tunnel — just like in a spy movie!
2. Family Road Trip
As soon as we saw this adorable pic, we were reminded of that infamous scene from I Love Lucy where they sing, "California, Here I Come." Is your family this happy when traveling together in small spaces? Yeah, ours aren't either. We can dream, though! Speaking of fantasies, have you ever wondered how long it would take to get to the moon by car? Well, if you were going 60 miles per hour and there was a road, it would take less than a month.
3. Car Icons No. 1
These simple icons are perfect for practicing staying inside the lines and, eventually, learning to shift colors between parts of the car. (Read: Eventually, they might stop coloring the entire thing red.) And your little one isn't the only one who loves cars. There are actually one billion cars in use right now, and more than 60 million cars are made each year. Despite the number of cars on the road, 95 percent of a vehicle's life is spent parked.
4. Car Icons No. 2
Which car looks most like Mama's? See if you can find cars in your family or neighborhood (or just online) that look similar and let them try to mimic the colors on these icons. Strange fact: The car that is stolen the most in the U.S. is the Hondo Accord! (Be safe Honda owners.)
5. Race Car
How fast do you think this car can go? What do you think the driver's name is? Where do you drive a car like that? All of these are great conversation starters that will kick your kiddo's imagination into high gear as they color. Fun fact: Did you know the first speeding ticket was given in 1902? The driver was going 45 miles per hour! And did you know that 35 percent of the world drives on the left side of the road? The rest drive on the right.
6. Family Driving Through City
Is it really the city if there are no other cars or rogue pedestrians? The cityscape is still super sweet and full of detail just waiting to be explored. But if you're traveling to Russia, remember to keep your car clean. Driving around with a dirty vehicle will result in being fined by a police officer. Speaking of strange laws, it's illegal to slam your car door after 10 p.m. in Switzerland.
7. Vintage Car No. 1
The car is awesome, sure. But, we particularly like the blank background. Encourage your budding artist to fill in all the details around the car, so you know where it's parked or where it's going. This will encourage creativity and adventure. To round out all the exciting car details, here's a safety fact: When a car crashes, airbags inflate in 30 milliseconds. Fun fact: There are BMWs in South Africa that offer a flamethrower option to help fight against carjackings. It's called the blaster.
8. Vintage Car No. 2
This car looks like it should have an old mobster in it… or Batman's parents. There's something dark and mysterious about it. Will your child get that vibe or take it in an entirely different direction? Even if it feels "wrong" to you, try to give them free rein to do whatever they want to with the coloring page. This vehicle actually looks a lot like a Volkswagen Beetle, which was the most popular car of the 20th century. It sold 20 million units worldwide!
9. Vintage Car No. 3
If you're feeling ambitious, consider helping your colorer look up what era this car came from and help them fill in the white space with period-appropriate people and buildings. Or just let them color it in. That's totally cool, too. Promise. And since we're on the topic of old cars, 75 percent of Rolls-Royces are still on the streets. Guess some things never go out of style.
10. Car
Do you have any "art cars" in your city? This blank canvas coupe is perfect for exploring what your kiddo would do if they could go buck-wild and paint their own car any way they feel. Will you end up with a camo car or maybe a Barbie-pink Zombie-proof ride? There are no wrong answers.
Click here to print all of the car coloring pages at once!
This article was originally published on