35+ Cars Quotes From Lightning McQueen And The Radiator Springs Gang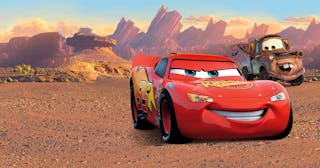 Disney
Hosting a star-studded cast, the kids' classic Cars has an every-age appeal. Bonus: Its equally entertaining successors are just. As. Good. This popular trilogy is a movie night favorite for many. Between funny guy Owen Wilson and stand-up comedian Larry the Cable Guy (AKA Lightning McQueen and Tow Mater), you may catch yourself binge-watching after tuck-in time. Shhh — we won't tell a soul. However, if your kids know these fan-fave films by memory while you need a quick refresher, what you want is this epic list of Cars quotes from all three productions.
When Lightning McQueen ends up stranded in middle-of-nowhere Radiator Springs on the way to race in the Piston Cup Championship, he finds friendship in the most unexpected of places. Seeing how desperate he is to get to California, his newfound friends do all they can to get him back on the road and help him defeat Chick Hicks and The King. In the end, Lightning McQueen realizes what he thought mattered most might not matter at all.
RELATED: 100+ Super Clean, Super Funny Jokes For The Whole Fam-Bam
The car-filled sequels and spinoffs chronicle the continued adventures of the Cars crew. Don't worry, though; they keep the first film's original charm alive. Need proof? Check out these Cars quotes from all three films.
Best Cars Quotes
"Ka-Chow!" — Lightning McQueen
"This grumpy old race car I know once told me something, 'It's an empty cup.'" — Lightning McQueen
"Oh, he's just a little bit shy, and he hates ya for killing his flowers." — Tow Mater
"I knew you couldn't drive. I didn't know you couldn't read." — Doc Hudson
"There was a lot left in me. I never got the chance to show them." — Doc Hudson
"Because we are a town worth fixing!" — Sally
"McQueen and Sally parked beneath a tree, K-I-S-sumthin', sumthin', sumthin'… T!" — Tow Mater
"What in the blue blazes? Crazy hotrodder!" — Radiator Springs Sheriff
"Fly away, Stanley, be free!" — Fillmore
"One winner, 42 losers. I eat losers for breakfast." — Lightning McQueen
"Kid, you can beat these guys. Find a groove that works for ya and get that lap back." — Doc Hudson
"It's even better than I pictured it. Thank you." — Sally
"You have more talent in one lug nut than a lot of cars have in their whole body. But you're stupid." — The King
"I create feelings in others that they themselves don't understand." — Lightning McQueen
"Goodbyeeeeeeeeeeee! OK, I'm good." — Mater
"Come on. I'm a racecar, you're… a much older racecar, but under the hood, you and I are the same." — Lightning McQueen
Cars 2 Quotes
"And there's the insult we were missing." — Lightning McQueen
"I sure wish he'd hurry up and get back 'cause we got a whole summer's worth of best friend fun to make up for." — Tow Mater
"Tow Mater. Average intelligence." — Tow Mater
"What'd you think? I just snuck in here when no one was looking and pretended to be your waiter just so I could hang out with you?" — Tow Mater
"I'm looking for a car." — Finn McMissile
"Like a good neighbor, Mater is there!" — Tow Mater
"Whatever you do, DO NOT EAT the free pistachio ice cream! It has TURNED." — Tow Mater
Cars 3 Quotes
"I decide when I'm done." — Lightning McQueen
"Don't fear failure. Be afraid of not having the chance. You have the chance!" — Sally
"The beach ate me." — Cruz Ramirez
"Wow, thank you, Mr. McQueen! You have no idea what a pleasure it is for me to finally beat you." — Jackson Storm
"It's futile to resist change, man." — Fillmore
"I used to watch you on TV, flying through the air. You seemed so fearless. I wish I knew what that felt like." — Cruz Ramirez
"This one's for you, Doc." — Lightning McQueen
"Race cars don't have phones, Cruz." — Lightning McQueen
"My electronic personal assistant. You know, like on your phone. You have a phone, don't you?" — Cruz Ramirez
"Don't you worry, pal. You had a good run." — Jackson Storm
"You will never be the racer you once were. Accept it. You can't turn back the clock, kid. But, you can wind it up again." — Smokey
"This is my last chance, Cruz, my last chance. If I lose, I never get to do this again." — Lightning McQueen
"It's all about motivation, Mr. McQueen. You can use anything negative as fuel to push through to the positive!" — Cruz Ramirez
"That I didn't belong. The other racers looked nothing like me. You know, they-they were bigger, and-and stronger, and so… confident. And when they started their engines… that was it. I knew I'd never be a racer. I just left. It was my one shot, and I didn't take it." — Cruz Ramirez
"You'll never be as fast as Storm, but you can be smarter than him." — Smokey
"The racing is the reward. Not the stuff." — Lightning McQueen
"I can't go out on the track and do the same old thing, it won't work." — Lightning McQueen
This article was originally published on