16 Easy College Halloween Costumes Great On Your Own Or With A Group
by Team Scary Mommy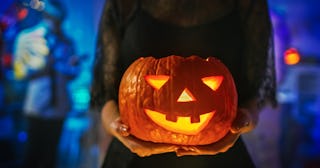 gorodenkoff/Getty Images
Thanks to COVID-19, the college experience this fall looks very different than in previous years. Although many classes have returned to in-person learning as opposed to virtual, large parties are still discouraged — especially in areas where cases are high. This doesn't bode well for college Halloween — traditionally a time to put on some sort of fun costume and gather together in crowded hallways or basements playing drinking games (only upperclassmen of age, of course) and making out with strangers. (No? Just us?) Though we definitely don't recommend that type of revelry, that doesn't mean you shouldn't do your research about college Halloween costumes. Even if you just party with your suitemates, you can still have a good time pretending to be someone or something else entirely.
Maybe there are Halloween gatherings in Zoom or on TikTok, or whatever the newest platform happens to be? Anyway, if you're looking for easy college Halloween costume ideas for girls, guys, or large groups, or even costumes you can wear with your family during a weekend home, here are some to consider.
Easy College Halloween Costumes
1. '80s Aerobics Instructor/Class
Chances are you have some combination of leggings and activewear already in your closet to put together a decent '80s aerobics outfit. If you're on your own, you could be the instructor. Got a group? Make it a full class. Bonus: You'll be pretty comfy the whole time. If you're not sure where to start, here's some inspo.
https://www.instagram.com/p/B4V37C_Jicj/?utm_source=ig_web_copy_link
2. The Addams Family
This is another one that works for both individuals and groups. Raid your closet and pull out anything black, then transform into Wednesday, Morticia, Gomez, Grandmama, or Pugsley. Want more tips on putting the outfits together? Just pull up a clip of the show or movie on YouTube.
3. Peanut Butter & Jelly
Whether you're dressing up with your bestie or SO, a peanut butter and jelly costume is as timeless as the sandwich itself. You can get creative and make some sort of large slice of bread out of cardboard, or just have each person dress in appropriate colors (purple and a light tan, or whatever color peanut butter is). Or just order a PB&J costume to make things easier.
4. The Belcher Family
They might not be as instantly recognizable as the Simpsons, but the Belcher family from Bob's Burgers is another fun and easy costume either for individuals or a group. Again, this is a case where you probably already have what you need to become Linda, Bob, Tina, Gene, or Louise in your closet already (OK, maybe not Louise's bunny ears hat). Plus, this gives you an excuse to eat burgers and fries all night, because it's "part of your costume."
5. The Golden Girls
As long as we're talking about TV show-inspired costumes, we should probably mention The Golden Girls. Yes, dressing up as Dorothy, Sophia, Blanche, and Rose probably requires a wig (depending on your IRL hair, of course), but other than that, just peruse your wardrobe for all the pastels and florals you can find and put them together in a way that looks like something a woman of a certain age might actually wear. Or, if you can't find anything in that category, you can always be Blanche.
6. Bottle(s) of Soda
Gather your gang and have each person dress up as their favorite soda, or go it alone. Really, you just need to pop on some clothes in the color of your soda of choice (brown, orange, grape, etc) and make a hat out of a pie tin. Here's a tutorial to help walk you through the process.
7. Any Emoji
Sure, there are plenty of pre-made emoji costumes out there, but if you're running short on time and/or cash, you can easily make your own. Grab some cardboard, cut out, and paint your favorite emoji. Then figure out a way to attach it to yourself if you're going to be walking around (like handles on the back, or some sort of shoulder-strap configuration). Dress in black, and you're ready to go. This is another one that works just for you, or with a group.
https://www.instagram.com/p/8is0KLHhNb/?utm_source=ig_web_copy_link
8. Characters from Alice in Wonderland
Whether you're more of an Alice, or a Queen of Hearts, or a March Hare, the possibilities are endless when it comes to the residents of Wonderland. The easiest is to put together is probably the Queen of Hearts: All you need is a red or black (or red and black) dress and a deck of playing cards to make a collar or other accessories out of, and you're all set.
9. A Blessing in Disguise
If you happen to have a pair of those classic joke glasses with an attached fake nose and mustache, you're basically already done with this costume. If you don't, they're available at most dollar stores or easily purchased online. Then get a shirt and write "Blessing" on it (or do something iron-on and fancier if you want) and that's it.
10. The Spice Girls
Though current college students weren't around to see the Spice Girls in their heyday, that doesn't mean they can't dress up like these icons of girl power. Whether you're going as Posh, Scary, Baby, Ginger, or Sporty Spice, it's helpful that each member of the group has a signature style instead of a specific outfit. And at this point, we all have so many athleisure items that we could go as an entire army of Sporty Spices. Another possibility if you're dressing up on your own, or with a group.
11. A Unicorn
Unicorns are still a thing people are into, right? If not, just say you're dressed as one ironically. Put together whatever your version of a cute outfit is, and then put on one of the many commercially available unicorn horn headbands, or make your own.
12. Bandits
You probably have a black and white striped shirt, so pair that with dark jeans or any bottoms, really, and put on some sort of black eye mask. If you have one of those black airline eye masks sitting around, you can cut holes in it, or just draw a mask on using face paint or whatever other makeup you have that would work. If you're going somewhere out of your house, a black face mask perfectly complements this ensemble.
13. The Proud Family
The early '00s are on-trend again. So much so that the circa '00s Disney animated series The Proud Family is coming back with Keke Palmer onboard. Before the new adaptation comes out, why not create your own with your roommates?
14. Basically Anyone From Riverdale
Everyone has their favorite characters in this comics-inspired CW show, which makes it perfect for a group (or everyone on your hall). If you don't want to do the standard Archie, Betty, Veronica costumes, think outside of the box. One fun idea? Going as the South Side Serpents.
15. Roxanne From A Goofy Movie
You can't get much cooler than Roxanne from A Goofy Movie. Sure, it's a lesser celebrated animated film (although for the life of us, we don't know why). But that's what makes this costume even better. It's unique and a nod to a completely rad character.
16. Mia Thermopolis and Lilly Moscovitz
We'll never pass up a chance to pay homage to The Princess Diaries! It is, after all, one of the best girl-power movies of the early 2000s. So, grab a school uniform and channel your best Anne Hathaway and Heather Matarazzo.
This article was originally published on