18 Fun Coloring Games And Activities For Kids That'll Entertain For Hours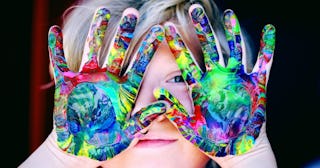 Sharon McCutcheon/Pexels
If you're trying to encourage a tiny budding scientist or artist without ruining your walls, couch or life savings? Thanks to the internet, the adult coloring pages phenomenon, and Amazon your options are almost limitless. Fun games and coloring pages are everywhere. Whether you're looking for something digital, something sustainable, or just something slightly outside the box, we've got you covered with our favorite coloring printouts and online games. Got a toddler at home? Try these fun color activities for toddlers to teach them their colors.
Coloring Apps And Websites For Kids
1. PBS Kids
Unsurprisingly, PBS Kids has a plethora of art-centered online games centered on all your kids' favorite shows.
2. Happy Clicks
If you don't mind the overwhelming amount of ads on the sides, Happy Clicks also offers an assortment of very easy online coloring pages.
3. Disney LOL
One of the best places for coloring options is Disney LOL. All of their sheets can be colored online or printed and colored at home. They even have multiple coloring sheets for nearly every movie and television show. If you're a household of Disney fans, this is your go-to source.
4. Nick Jr.
Of course Nick Jr. has to keep up with the competition, right? Their coloring games aren't very user friendly and won't function well if you're only letting your kiddo use an older computer. But, they still have plenty of options and, just like Disney, you can print the final product.
5. HelloKids
Another ultimate place for coloring pages, coloring games and even drawing tips is HelloKids. Whatever interests your child, you'll probably find a connection here.
6. Pixel Art – Color By Number App
All the art on Pixel Art is reminiscent of old school video games. Bonus: Color by numbers help your kids learn to read and follow directions.
Related: 34 Fun And Easy Minute To Win It Games For Kids Everyone Will Enjoy
7. Kidlo Coloring Games App
Kidlo offers an array of fun and educational coloring pages and games for your kids. It's also available across multiple platforms, so whether your child has their own Fire or they're borrowing your iPhone, this app can follow them anywhere.
8. Coloring Pages 4You
Literally all a kid could ever want when it comes to online coloring pages. Coloring Pages 4You also has a pretty decent collection of colors to choose from, too.
9. Joy Doodle App
Got a kid who loves glow-y, neon fun? Joy Doodle offers kids a blank black screen and the chance to doodle what they please. Each line comes out like a glowing neon light.
Best Places For Printable Coloring Pages
10. Unicorn Coloring Pages
Got a unicorn-obsessed kiddo? Of course you do. May as well lean into all of those Lisa Frank vibes and give your little one our 10 free unicorn coloring pages to pass the time.
11. Princess Coloring Pages
Once upon a time… there were 10 super-cute free printable princess coloring pages you could easily access for the tiny fairytale fiend in your house. True story.
12. Puppy Coloring Pages
Everyone loves puppies — especially kids! Maybe your little one has always dreamed of having a dalmatian. Well, now they can… and they can color it any which way they want. A purple dalmatian puppy? Yes, please! And we've got nine other free printable puppy coloring pages where that came from.
13. Pokemon Coloring Pages
Your little Pokemon master will have a blast getting creative while coloring the creatures in the Pokedex. We've done the heavy lifting for you by rounding up a bunch of free Pokemon coloring pages.
Colorful Coloring Contraptions For Home
14. Crayola Color Wonder
If your sweet little Van Gogh still struggles to stay in the lines (or even on the page), Crayol's Color Wonder series is a miracle. The marker's special formula leaves bright colors on the pages but no ink on your home decor. From princess kits to Daniel Tiger, the themed color wonder books are cheap and plentiful making them the ultimate score for your babe.
15. NOYO Gel Crayons
It's hard to find crayons that hold up as well as Crayola, but NOYO might just do the trick. The bold and bright gel crayons are raking in rave reviews. Bonus: They're washable.
16. Epic Book of Awesome Coloring Book
Trust your kid with crayons but still need a way to keep them distracted from the walls? How about 288 pages of fun stuff to color?
17. Crayola Pipsqueaks
Nearly all of Crayola products advertise as washable. However, there's something about the formula in these mini-markers that seems to make them extra easy to erase.
18. Aqua Magic
Like the Etch-a-Sketch or MagnaDoodle, the Aqua Magic floor mat is the perfect, mess free spot for kids to create limited-time-only artwork. when they're done, their artwork disappears in a matter of minutes and then they're free to start over.
Related: How To Build A Super Cool And Easy Indoor Fort Kids Will Actually Love
This article was originally published on