11 Cow Coloring Pages To Put Your Kiddo In The Mooooo-d For Fun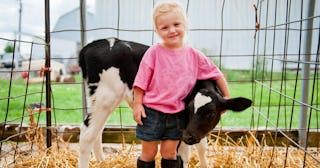 Edwin Remsberg/Getty Images
Without cows, the world would be a much different place. While we depend on bovines for food, they're also quite intriguing animals. For example, did you know that a cow can chew for up to eight hours a day? Aside from providing milk, that's a pretty big task. Cow coloring pages are a lot of fun for kids since they can experiment and make cows something other than black and white.
Cow coloring pages are also a blast for adults, especially those who may like to doodle with a pen while waiting on the phone. With just a black pen, a cow can feel complete. As far as farm animals go, there's no doubt about it — cows are definitely the most fun to color.
Here are 10 cow coloring pages for you to experiment with if you're looking for an easy at-home activity.
Free Cow Coloring Pages
1. Cow No. 1
While this cow would look terrific in any color, it'd be stunning if you used brown shades. You can also get adventurous with the grass. Instead of making it green, add some yellows to give the field a bit of a rich definition. Fun fact: Almost 2,000 hamburgers can be made from the beef in one cow. That's a lot of burgers!
2. Cow No. 2
This cow looks like she's having a grand ol' time. The spot on her ear gives her a bit of personality, don't you agree? If you're looking to color outside of the norm, this drawing practically begs for some cool purple hues. Maybe you can make the spots a violet color and the body more of a lavender.
3. Cow No. 3
This cow vaguely looks like it could be a biological cousin of Heffer from the '90s cartoon Rocko's Modern Life. If you're a fan of the show, feel free to give him similar colorations as Rocko's best friend. That means green for the hair on the tail and a bright yellow body.
4. Cow No. 4
This simple yet dignified drawing almost looks like a logo, so maybe create an imagination game around that. Ask your kiddo what kind of company they might start with a logo like this one. Foster that entrepreneurial spirit early, Mama!
5. Cow No. 5
If you were new to the farm, it'd probably be this cow that'd show you the lay of the land. Quite cartoonish, this character would also benefit from quirky colors. Maybe pink, red, or even a light blue would help accentuate its interesting personality. Back in the 1850s, almost every American family had their own cow. Imagine instead of having a dog at the foot of your bed, it was a bull!
6. Cow No. 6
Cows spend a lot of time swatting away flies. So, in a way, this drawing is actually pretty realistic. But it's also kind of funny, right? This cow might need a bath, but she's trying to make up for the outdoor scent with a beautiful flower. Bonus: The bell gives you a chance to break out the silvers and golds if you're looking to add a bit more sparkle.
7. Cow No. 7
This little calf looks like it's ready to gossip with the rest of the cattle. A drawing as bold as this would look stunning with realistic colors. Perhaps while your kiddo colors, you can talk to them about agriculture-based programs for kids like 4-H. And aren't you just mesmerized by this little calf's eyes? Did you know cows can see 360 degrees but have a hard time seeing directly in front of them? They'll usually turn their heads to get a better look at something.
8. Cow No. 8
This cow looks a little like a big balloon, giving it a naturally whimsical quality. Our suggestion? Use pinks and mauves to create a cute drawing to hang up in a child's nursery. Or you can stick to black and white to make it slightly more distinguished. Did you know there are 98 million cows in the United States?
9. Cow No. 9
If you ask us, this cow is the most interesting of them all. While simple, she still has a ton of quirk. And, hey, if your kiddo thinks hooves are boring, well, they won't have to worry about them here. But here's an exciting tidbit about cows. They can chew for up to eight hours and move their jaws about 40,000 times a day. The rest of their body, however, isn't so active. Cows lie down for about 10 hours a day. Did you know cow tipping is a bunch of hogwash? It's incredibly hard (basically impossible) to tip over a sleeping cow. The average cow weighs about 1,500 pounds!
10. Cow No. 10
This last cow has his eye on you — simply put, he knows what you did. You can see it in his expression. He knows all. We kid; we kid (or do we?). In all seriousness, this coloring page offers an excellent opportunity to practice shading, especially if you're working with colored pencils. Try starting with his snout! And much like your kiddo, cows love to be part of a crew. They hate being alone so much, the only times you'll catch them by themselves is when they're sick or about to give birth. Fun fact: Did you know the word cattle comes from the word chattel, which is the Anglo-French word for personal property.
10. Cow No. 11
Cows are native to Europe, but did you know the first cow to come to the United States was brought in 1911 to Jamestown? Fun fact: Bulls can't see the color red? The reason they charge toward bullfighters is because of the movement of the cloth. Matadors wear red to hide the color of the bull's blood.
Click here to print all of the cow coloring pages at once!
This article was originally published on