Cupcake Coloring Pages That'll Make You Wish It Was Time For Dessert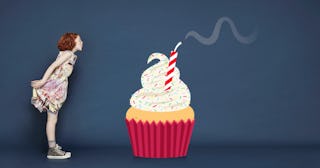 Flashpop/Getty Images
When people ask us what our favorite kind of cake is — which has actually happened maybe twice ever, but has still happened — we usually say cupcake or ice cream cake. Clearly, that's not the answer they're expecting. But for us, size and type are very important. All cakes are amazing, but there's something particularly joyous about cupcakes! Some of us even opt for cupcakes instead of real cake for our weddings (#truestory and no regrets). Aside from eating cupcakes, though, we've found it's also fun to color in cupcakes. And, that's because you can really let your mind go wild. Lucky for you, we whipped up a bunch of amazing cupcake coloring pages to help ease any boredom that you or any member of your family may have.
Cupcake coloring pages are a great way to indulge your sweet tooth… without having to worry about getting a stern talking-to from your dentist! Just remember when your children color these in that there's no wrong way to approach them. If they envision a purple cupcake with green frosting, celebrate the fact that they're using their imagination. You can even run with the color theme and teach them about Mardi Gras.
Or you can try and make your cupcake coloring pages as realistic as possible. Have you ever tried shading in a cupcake before? It's thrilling. Whatever "flavor" you crave, here are 10 great downloadable and printable cupcake coloring pages you're going to love.
Free Cupcake Coloring Pages
1. Strawberry Cupcake
You can taste this cupcake even without the colors! A strawberry cupcake drawing would look sweet with pink and red swirls. If you happen to have crayons or colored pencils with a bit of a sparkle in them, this may be their calling. Fun fact: Cupcakes weren't always called cupcakes. They used to be called number cakes. And did you know Georgetown Cupcake was the first cupcakery to open in Washington, D.C?
2. Short Cupcake
This cupcake may also classify as a muffin. But, muffins are also good, since they're often known as a type of cupcake that nobody would give you side-eye over if you eat it for breakfast. This one is also begging for some great colors to distinguish it for a little bit. Fun fact: There are cupcake ATMs that holds about 350 cupcakes at once. What a delicious idea!
3. Lemon Cupcake
When you think of lemon cupcakes, you think of fancy spring and summer events. As far as cupcake coloring pages go, this one is incredibly versatile. You could decorate it with either an off-white vanilla cream, a lemony yellow frosting, or something completely different. You can also stand by the yellow coloration and have fun making the wrapper truly unique.
4. Heart Cupcake
Just in time for Valentine's Day, this heart cupcake looks too sweet to eat. If you're a little tired of red and pink, why not give the frosting on this cupcake a rainbow effect? When you love someone and want to gift them baked goods, it's always good to be colorful.
5. Another Heart Cupcake (Because Why Not?)
Since you can never have too many heart cupcakes, here's another cute design. This drawing almost looks like a cupcake built for two. (And, you know your love is strong if your partner is willing to share a cupcake with you.) The largest cupcake baked was 1,200 pounds. It had over two million calories! Fun fact: In Australia, cupcakes are called patty cakes.
6. Cherry Cupcake
When someone makes you a cherry cupcake, you know it's filled with love. Decorate your own with this adorable coloring page and remember the date October 18th. That's national cupcake day!
7. Cupcake With Sprinkles
Do you call them sprinkles or jimmies? Or, something else entirely? It's a topic you can easily debate with your family after printing several versions of this coloring page to share. Sprinkles are another way to make things exciting. Are they chocolate sprinkles, rainbow sprinkles, or something completely different? That's up to you to decide.
8. Citrus Cupcake
If lemon isn't your thing, what about lime? Or, grapefruit? Grapefruit is actually a type of cupcake that's starting to gain a lot of popularity. Of course, since this is your coloring page, you can morph it into any citrus flavor you can imagine.
9. Cupcake With Candle
Happy birthday! This cupcake needs a ton of color to help celebrate. You can easily print out this image for kids at a party or, hey, why not send the image to the birthday guests virtually? That way they're all able to participate in a safe way. Birthday cupcakes are some of the best, so make sure to color this one in proudly.
10. Cupcake With Bow
If candles aren't your thing, how about bows? This cupcake would make a heartwarming gift to someone you love. Have fun choosing the flavor and coloring in the bow.
Click here to print all of the cupcake coloring pages at once!
This article was originally published on