Hold On, Is Bridesmaids 2 Going To Happen? Melissa McCarthy Is All In
Surely one of the original bridesmaids is due their own wedding by now, right?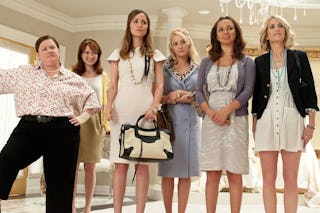 Suzanne Hanover/Universal
If Melissa McCarthy has her way, that whole female fight club bridal shower idea could still happen. In a recent interview with People, The Little Mermaid star shared that she would love to make Bridesmaids 2. Someone just has to get the movie's star and co-writer, Kristen Wiig, on board first.
Bridesmaids was a box office smash when it was released in 2011, reminding Hollywood that women like comedy movies too (duh). Since then, the genre's renaissance has continued with films like Pitch Perfect, Girls Trip, and 2023's Joy Ride. With female-led comedies still translating into big bucks at the box office, now seems like the perfect time for the 2011 film's original cast to reunite for more wedding mishaps.
"I would do a Bridesmaids sequel this afternoon, right now," McCarthy told People. "That group of women was the most magical thing ever. Almost all of us were really good friends already. I think it was such a magical time."
It doesn't matter if the call comes in when McCarthy's in her Golden Girls era; she'd still do the sequel. She joked that even if the cast is "all in our nineties and [writers] Kristen [Wiig] and Annie [Mumolo] are like, 'Should we team back up?' I'd be like, 'Yes. Yeah, we should.'"
But what about the rest of the star-studded cast? Read on for everything that's been said about a Bridesmaids sequel so far.
Would Kristen Wiig return for a Bridesmaids 2?
Even though Maya Rudolph's Lillian was the one getting married, Wiig's Annie was the undisputed star of the film. Without her panicked response to her best friend's nuptials, there simply wouldn't have been a movie. Sadly, Wiig has made it clear that she thinks a Bridesmaids sequel would be a bad idea.
In 2021, the former Saturday Night Live star explained during an interview on SiriusXM's Town Hall why she doesn't want to expand the Bridesmaids' universe. "We have said we weren't really interested in, like, going back and writing another one," she shared. "But I just don't want it to be translated as a negative thing, because we obviously love the movie... We feel like we told that story, and we were just so excited to do other things."
What has director Paul Feig said about a possible sequel?
Unfortunately, Feig appears just as reluctant to attempt a Bridesmaids follow-up as Wiig. In 2020, he told Collider that while everyone remembers the funny moments — i.e., "It's coming out of me like hot lava!" — what made the movie resonate with viewers was Annie's journey.
"Everybody thinks they want a Bridesmaids sequel, and it could be fun, but I always have to say this: You remember all the comedy stuff, that was great, but the reason that movie worked is because it was about Kristen Wiig's character, who was a very confident person before the movie began [and] has this total crash because her bakery goes out of business and everything falls apart in her life. So we meet her, and she's a disaster. She's desperately trying to hang onto this one thing, which is her friendship with Maya Rudolph's character, and that takes her through the fire."
Making Annie's life fall apart again wouldn't feel authentic, according to Feig. And the only alternative is to go all in on a wacky wedding adventure, but that would lack the emotional honesty of the original film.
For now, at least, it seems unlikely that Bridesmaids 2 will ever happen. But if Wiig and Feig change their minds, it's good to know McCarthy is just a phone call away.