10 Shows That Can Be Conversation Starters For You & Your Teen
Looking for something to watch with your teen? Check out these relatable and hilarious shows.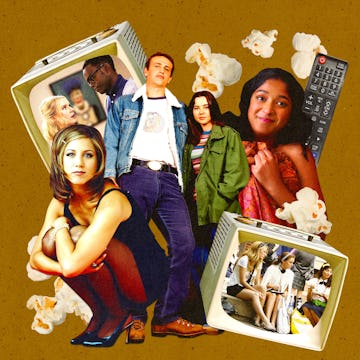 Ariela Basson/Scary Mommy; Getty Images, Shutterstock
Teens can be a bit difficult to predict. Sometimes it probably seems like they hate you, but other times they need you. And doing literally any activity with them might seem impossible sometimes; you've probably tried and failed to get them to play a game, go for a walk or maybe even just have a conversation with you. But what if you found an activity where you don't have to talk, you both get a chance to relax and you're more than likely laughing during the whole thing?
Yep, you guessed it — I'm talking about watching TV. While parents and teens don't have a ton in common, something most people in any phase of life enjoy is streaming a show. And believe it or not, there are a lot of options available that people of all age groups can enjoy.
The best part is that you can actually use the shows as a way to start otherwise difficult or awkward conversations with them. For example, it would be weird if you brought up anything related to sex, drugs, or alcohol with your kid out of nowhere — but it wouldn't be as weird if you just watched a character on a show learn about the same things the hard way.
Keep reading to see some suggestions of shows you and your teen will get a kick out of, and maybe a conversation. If you can skillfully leverage a conversation from one of these, it may help you bond with them... and then maybe they'll forget to hate you.