Guy Fieri Made His Son Drive His Grandmother's Minivan For A Year
But now his dad has surprised him with a new vehicle as a reward (but he had to pay half).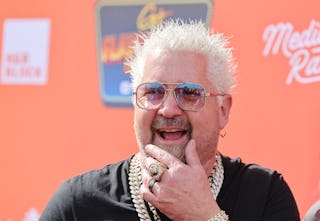 Ethan Miller/Getty Images Entertainment/Getty Images
Guy Fieri might not have the most refined style in the world, but he seems to be a really, really great dad and family man. The flame-wearing Food Network star shared this week that he surprised his 17-year-old son Ryder with a new-to-him truck after the teen drove his grandmother's 259,000-mile Chrysler minivan for one year.
The Mayor of Flavortown told People in September that, "I'm not buying Ryder a car, and I refuse to let him buy a car, until he spends one year with no tickets, no accidents, driving the minivan."
Well, that day has come! Fieri updated People with what happened after Ryder had passed his driving responsibility test: an epic scavenger hunt on the Diners Drive-ins, And Dives host's North Carolina ranch.
"The second to last clue sent them all the way up the mountain to the lookout, and they had to find the clue. And then it said, 'Come down where it's deep and cold' or whatever," he shared. "And I had opened the pool — now granted it's 34 degrees up at the ranch in the wind — and in the pool tied to a pipe is the final clue."
After attempts to use the pool skimmer failed, the boys decided there was only one way to get the final clue.
"They all strip down to their boxers and they all jump in and he pulls it out and he gets it. The water had leaked in the envelope a little bit, so it was a little bit wet and he's trying to read it," Fieri said. "It was [revealing] this truck that he's wanted."
Of course, Fieri isn't the type of dad that gives you a new truck for nothing. Ryder had to pay for half from his earnings working on his dad's shows — and the truck is a hand-me-down from his older brother Hunter, 26. In turn, Hunter is buying his dad's old truck from him.
"I mean, what is the gift? The gift is, 'Hey, you have to pay half the money we'll pay the other half.' But he was really excited," he said.
But he and wife Lori did make sure to make the truck special.
"We had taken the truck from Hunter, taken it to the detail shop, had it all gone through and made it Ryder's truck and a couple of my buddies come driving up the driveway and honked the horn. He lost it. I've never seen him happier about a gift he was getting," he said.
Fieri and his partner met in a restaurant he was managing and married in 1995. They have two sons, Hunter, 26, and Ryder, 17, as well as a nephew Jules, 23, who they've raised since 2011, when Jules' mother passed away from cancer.
It's always been a goal of Lori and Guy's to raise kids that are grounded despite the fact that their dad's hair is recognized worldwide.
"I'm so proud of all that these kids get to experience but also at how grounded they've stayed," he told People last year. "I think that has a lot to do with who I am and who my wife is. We came from very, very close-knit families."
It's baffling why Fieri gets hate from anyone, honestly. Sure, he's not the best dresser, and sure, he prefers comfort food to fancy fare. But he has a long history of immense charitable giving and seems to be a five-star parent. Let's be Team Fieri.