Hilary Swank Is In "Pure Heaven" After Welcoming Twins
The actress announced the exciting arrival(s!) on Easter Sunday.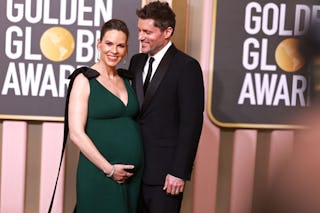 Matt Winkelmeyer/Getty Images
She did it! Hilary Swank and husband Philip Schneider announced the arrival of their twins on Easter Sunday. The 48-year-old actress took to Instagram to share the news, posting a picture in a robe with a twin on each shoulder as she looked off into the sunset.
"It wasn't easy. But boy (and girl!) was it worth it. 👼🏼🤍👼🏼," the actor, who recently showed off her bump at the Golden Globes, captioned her Easter announcement. Adding, "Happy Easter! 🐣🐣 Posting from pure Heaven. 🙌🏽"
The Alaska Daily star shared her pregnancy news in October 2022 on Good Morning America, saying, "It's something I've been wanting for a long time, and my next thing is I'm gonna be a mom. And not just of one, but of two." Of having twins, she added, "I can't believe it."
Swank stayed active on social media throughout her pregnancy, keeping fans and celebrity friends up to date on how she and her twins were doing. From workout pics to formal wear, Swank shared her pregnancy with the same honesty and positivity you'd expect from the actress. Anyone following along knew the arrival of her twins was imminent.
Her celebrity friends have come out in droves to support her throughout her pregnancy journey and it seems they're just as excited about the arrival of the twins. Everyone from Sophia Bush and Misha Collins to Sharon Stone has commented on the twins' arrival.
"Welcome home angels❤️," commented Mariska Hargitay.
Sharon Stone added, "God bless honey This is the most extraordinary journey ever ❣️🌹so happy for you all."
While Viola Davis showed her excitement how only she could, "Aaaaahhhh!!!!! Congratulations ❤️❤️❤️."
And her pal Juliette Lewis commented, "👏👏👏👏👏👏👏👏👏 😮congrats beautiful strong mama and babes ❤️."
No word on baby names yet, but considering how open Swank has been throughout her motherhood journey thus far, a name announcement is likely on the way.
The twins are the first children for Swank and Schneider, a "social venture entrepreneur." The two were set up by actor Misha Collins' wife, engaged in 2016, and married in 2018.