Jennifer Garner's 17-Year-Old Is "Grateful" She Was Never Allowed To Use Social Media
The mom-of-three established a strict ban early — and stuck with it.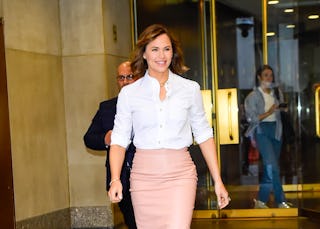 Raymond Hall/GC Images/Getty Images
Joining other celebrity parents like Pink, Jennifer Garner just revealed that her three kids do not use social media.
In a Today Show appearance on April 11 to promote her new show, The Last Thing He Said To Me, the actress, producer, TikTok powerhouse, and highly relatable mom shared her concerns over research suggesting social media is toxic and destructive to young people — which is precisely why Garner is gatekeeping it with tween and teens. And while they may have originally pushed back on her strict no social media rule, she says they've now accepted it.
Garner told Today she has never allowed her three children, Violet, 17, Seraphina, 13, and Samuel, 11, whom she shares with ex-husband Ben Affleck, access to social media. Aside from the perceived negative influences and toxic body issues that could affect young kids, the Garner-Affleck brood avoiding the whole shebang also protects the kids from unkind (and often untrue) rumors or headlines about their parents' personal issues.
Garner made a strong case for staying off social media but says she's also left it open for her kids to prove her wrong. "I just said to my kids, 'Show me the articles that prove that social media is good for teenagers, and then we'll have the conversation,'" said Garner. "Find scientific evidence that matches what I have that says that it's not good for teenagers. Then we'll chat."
So far, not much is available by way of supporting social media use. And at least one of her kids is actually OK with the strict social media forbiddance. "My eldest is grateful," Garner said. "It's a long haul. I have a couple more to go, so just knock on wood. We'll see if I really hang in there."
TikTok's minimum age requirement is currently 13, meaning two of Garner's kiddos are just at or about to be at the age where they can legally hop on TikTok. They're also in that prime age range for kids feeling pressured to join social media, which coincides with the time most detrimental to their mental health. In all likelihood, Garner still has a few more years of bickering over social media to go (been there!), but there's plenty of information in the world to support her concerns and back up her values. So, this should be an easy "fight" to win.
Garner's newest project shows her in all her mom-ing glory, too. Garner plays a stepmom who's left to chase down the truth of why her husband has disappeared... all while trying to bond with and raise his daughter, her stepdaughter. Based on the 2021 bestselling novel by Laura Dave, The Last Thing He Told Me is available to stream on AppleTV+ starting April 14.