The Joe Jonas & Sophie Turner Split Have People Talking About Double Standards In Marriage
Some sources claim Jonas filed papers due to Turner's "partying."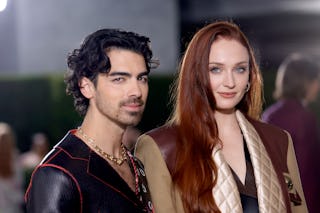 Frazer Harrison/Getty Images Entertainment/Getty Images
Rumored celebrity gossip was confirmed this past weekend when musician Joe Jonas and actor Sophie Turner confirmed on social medial that they have decided to divorce after four years of marriage.
Many fans were shocked over the news, considering how happy and in love the couple presented themselves, with Turner attending several Jonas Brothers concerts while the trio has been on tour recently and Jonas featuring his wedding ring in several photoshoots. Just goes to show you that you never really know what's going on in someone's relationship.
The couple first met in 2016 after Jonas hit up the Game of Thrones actor on social media. She was 20. He was 27. They got engaged a year later, and tied the knot in 2019.
In 2020, Jonas and Turner welcomed their first child together, with their second daughter born in July of last year.
This week, Jonas filed for divorce from Turner, with sources saying the couple has had "serious problems" for at least six months.
The "sources" dishing to celebrity gossip sites like TMZ and The Daily Mail seemed to only have details about Turner's behavior that led Jonas to call it quits, including that Turner has "alleged affinity for the nightlife" and loves to go out and party while Jonas would rather hang with the kids.
"She likes to party; he likes to stay at home. They have very different lifestyles," a source told the publication.
TMZ also wrote in their report, "We're told over the last 3 months, Joe has been caring for their 2 young children 'pretty much all of the time,' even as his band was touring. We're told Joe currently has both kids, as the group plays around the US."
If you're thinking that this narrative is a bit fishy, you're not alone.
Several fans of the couple and internet sleuths questioned this reasoning for the split (allegedly being pushed by Jonas' camp).
"Sad as hell that a young mother is going to get dragged through the mud because...wait for it... A father had to take care of his own children. You can't make this shit up," one person wrote on Reddit in response to the news.
Since the rumors of Turner's partying ways spread like wildfire on the internet, various videos have resurfaced with evidence to tell quite the opposite tale.
One interview in particular has resurfaced online amid TMZ's article which shows Turner having a virtual interview with Conan O'Brien during the 2020 COVID-19 lockdown.
Sophie admitted to O'Brien that she was "kind of loving" quarantine life.
"You like this business of staying home, don't you?" Conan asked.
She enthusiastically answered, "Yeah, I'm an introvert. I'm a homebody. I'm just like, if I could stay home all day, I would, so this is great for me."
She then went on to reveal that it is actually Jonas who enjoys being out all of the time, and that she was grateful for lockdown because she normally struggles to "lock him down."
In another video, Turner and Jonas took part in a couple's TikTok challenge. When the question "Who's the homebody in the relationship?" was asked, both agreed that it was Turner, without any hesitation.
Something is not adding up here!
Even if Turner has been out and about more recently (much to the chagrin of Jonas apparently), she's been out and about — working. Turner has been in her home country of England for work, filming her upcoming TV show, Joan.
What is the difference between Turner being out, working and filming, bring home a paycheck to her family and Jonas being on tour every single night with his brothers? The double standard here is wild.
One Twitter user hit the nail on the head and tweeted, "Breaking News: Man parents his own children while his wife is away at work."
One picture of Jonas out solo with his daughters and he's in "dad-mode" as opposed to his cigar-smoking, tequila shot-taking photos that we all used to think were charming and sexy. One single claim that Turner has been out partying and she's mom-shamed and divorce-worthy. Cringe.
Several internet users pointed out that frustrating narrative being pushed, however, many Jonas fans ran to his defense, writing: "@joejonas you're awesome, you're a great dad, you're kind, you're loved. Sending you lots of love..."
'Joe Jonas!!!!!!! Sweetest man alive. Absolute angel. Deserves the world! Most talented man alive. Never done anything wrong. Hot!...," another tweeted.
If Jonas' claims of Turner's partying lifestyle has merit, several fans have wondered if that could be a long-term effect of their seven-year age gap.
After all, Turner was just 23 years old when she married 30-year-old Jonas. She had two young children by the time she was 27. That's a lot for a person who moved away from their home at such a young age.
How can a man be shocked when his young wife wants to pursue things that any young person would totally want to pursue and partake in? Just because she's a mom doesn't negate her desires to still live her life!
Wherever you stand on this split, for now, Turner and Jonas are showing a united front.
The former couple shared a joint statement on their social media profiles, stating they had "mutually decided to amicably end [the] marriage."
"There are many speculative narratives as to why but, truly this is a united decision and we sincerely hope that everyone can respect our wishes for privacy for us and our children," the statement concluded.
It seems like, at least in this statement, they don't like the assumptions and rumors about their lives and their parenting, either.