YA Author John Green Calls Out Library For Moving 'The Fault In Our Stars' To The Adult Section
"It is about teenagers and I wrote it for teenagers."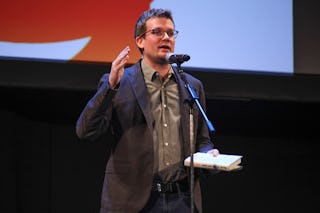 Kelly Sullivan/Getty Images Entertainment/Getty Images
The conservative right's war on books continues — but this time they've messed with the wrong guy. After a library moved a number of YA books into the adult section and away from impressionable children, YA powerhouse author John Green had words for everyone who was behind it. In short: he called the move "ludicrous" and "embarrassing."
"The Fault in Our Stars has been removed from the YA section in the suburbs of Indianapolis and is now considered a 'book for adults'," he wrote. "This is ludicrous. It is about teenagers and I wrote it for teenagers. Teenagers are not harmed by reading TFIOS. This is such an embarrassment to the city of @FishersIN."
It turns out that the Hamilton East Public Library — which has locations in Fishers and Noblesville, Indiana — moved over 100 books out of the kids' section and into the adult section, restricting kids' access to the titles. These titles included several of Green's books as well as other literary classics like Forever by Judy Blume, The Poet X by Elizabeth Acevedo, and Felix Ever After by Kacen Callender.
In step with other book restrictions and book bans taking place across the country, the books that were targeted seem to overwhelmingly deal with themes of teen romance, sexuality, and queerness — with books that question authority or deal with alternative cultures making the list as well. And as always, authors from marginalized groups, like Acevedo and Callender, are singled out more than others. Manga — Japanese graphic novels — were also on the list in considerable numbers.
It's unclear if kids can still check out books that are located outside of the kid and YA section, but at the very least, relocating them into the adult section will make them harder to find and almost impossible find via browsing — which is how many kids find books to check out at the library.
HuffPost found that the book reorganization was voted on by the library's Board in December, in an attempt to have only "age appropriate" books in the YA. Section. But the action goes along with a greater trend of both school and public libraries moving, removing, or restricting books that tell diverse stories, contain any kind of sex or romance, or offer alternative viewpoints.
Green, who lives in Indianapolis, followed up his initial tweet by sharing a letter he wrote to the board in response to their action, and it is seething with anger and disappointment. It also points out why the book removal is not only a poor moral decision, but also a poor business decision as well.
"I am your neighbor. And I am absolutely horrified by the decision of some members of your board to override a huge body of expertise and deem hundreds of books — including mine — inappropriate to be shelved as Young Adult Literature," he writes. "One of the novels you've pulled off the shelves won the Michael L. Printz Award as the best Young Adult novel according to the leading librarians in the U.S. Another was awarded the Corinne Book Prize, the highest award for young adult literature in Germany. Other books, including Judy Blume's Forever and Laurie Halse Anderson's Speak, are widely viewed as classics of Young Adult Literature. And more to the point, librarians and teachers in our community — the highly-trained exerts Fishers and Noblesville pay with public money — agree that these books should be shelved as Young Adult literature, which is precisely why they were until your shameful intervention."
"It's political theater of the lowest and most embarrassing order, and it's an awful way to have Fishers and Noblesville make national news," he continues.
Good summary.
"As a business owner," he concludes, "I'm infuriated by your third-rate vice signaling that complicates efforts to bring business and talent here. As a parent, I'm disgusted by our disregard for the professionalism and expertise of teachers and librarians. As a Hoosier author, I am deeply offended by your inaccurate and hurtful portrayal of my work. And as a citizen, I am so disappointed that you would use public time and public resources to engage in work that actively hards the public through censorship, defacto, and otherwise."
While the letter has not gotten an official response, some involved in the fight have replied.
"Thank you for entering the conversation," one local wrote. "Many of us, including 3 board members and the library director, have been at every board meeting fighting this for nearly a year now. We are clearly losing the fight but we won't go down easily."
These book bans and removals are only becoming more common, and it's thanks to the authors speaking out and the local citizens on the ground that it isn't happening even more.