Keke Palmer & Darius Jackson Welcome Their First Baby
The actor shared intimate pictures and revealed the baby's name.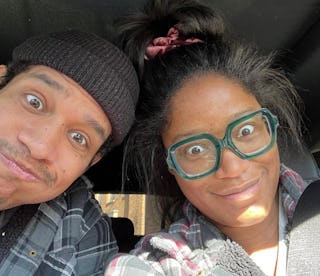 Keke Palmer/Instagram
Their baby is here! Actor Keke Palmer and partner Darius Jackson have become first-time parents, and Palmer is already keeping things very real when introducing her first kid to the world.
The Emmy Award-winning star and football player shared their first images of parenthood, as well as first images of their baby in a post that was funny, warm, candid, and sweet.
They also shared that they have welcomed a boy, and named him Leodis 'Leo' Andrellton.
"Hey son," she began the post. "Born during Black History Month, with a name to match. Leodis Andrellton Jackson, welcome to the world baby Leo."
The first photo in the bunch is of Palmer and Jackson taking a selfie in the car — maybe looking a tiny little bit overwhelmed and disheveled — with the caption, "Only 48hrs of being parents!"
Next up is a video of Keke singing in the car. "Darius always made me playlists when we first started dating, 'Someone' by El Debarge was a favorite," they wrote. "We became each other's someone and made a someone, look at God!'
Then she shared some intimate moments from the hospital and delivery room.
"The baby love Rolling Ray, cause purrr," they wrote alongside a video of everyone watching television on a laptop, with Jackson rocking the baby.
And then comes the real treats: Three beautiful pictures of baby Leo.
"'I'm not hiding the world from my son, I'm hiding my son from the world.' Hahaha", they wrote. "I'm just playing, my baby face is on this slide. ...And this slide"
We see him snuggled with his mom, then in a onesie with a tiny stuffed animal, and then a close-up of his face. Adorable.
Palmer announced she was pregnant like most people do — on Saturday Night Live!
"I'm especially glad to be here because there's some rumors going around. People have been in my comments saying 'Keke's pregnant, Keke's having a baby,' and I want to set the record straight," the 29-year-old, ripping open her jacket to show her protruding belly. "I am!"
Later she shared pictures from her babymoon with Jackson, whom she became "official" with last November.
And in January, she opened up to People, saying, "I can't wait to hold my little one."