Sharon Osbourne Spilled The Tea About The Birth Of Kelly Osbourne's First Baby
The reality star has welcomed her first child, and though she's not ready to talk, her mom is gushing.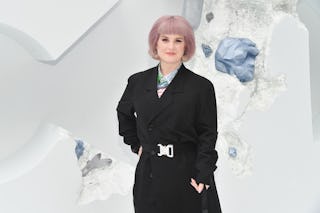 Stephane Cardinale - Corbis/Corbis Entertainment/Getty Images
Kelly Osbourne and beau Sid Wilson have welcomed their first child into the world, a baby boy named Sidney. Although the television personality and Slipknot DJ have not made an announcement about the new member of their family, Osbourne's mom, Sharon, was happy to share it with the world.
Sharon, 70, appeared on the British talkshow The Talk on Tuesday and was happy to gush about her new grandson. She shared his name and gave an update on Kelly, saying that she's "so great, so great."
She also shared that Kelly is being super private about the entire thing.
"She won't let a picture go out of him, and I'm so proud of her," she said.
It's not clear whether Sharon had permission to talk about the birth or to reveal Sidney's name, but this grandmother seemed like she couldn't keep the information in.
For her part, Kelly took to Instagram Stories with a very succinct message to the world (and perhaps her mom?) about who is allowed to share information about her kid.
"I am not ready to share him with the world. It is no one's place but mine to share any information on my baby."
Let's also not forget that just months ago, her dad Ozzy spoiled the surprise of the sex of the baby.
"I mean, he's told everyone...the gender of my baby before I ever got the chance to," Kelly said during an interview with Entertainment Tonight in October.
The singer and model first announced she was pregnant in May — which was 33 weeks ago, if anyone's counting. She hasn't posted on her social media since October.
"I know that I have been very quiet these past few months so I thought I would share with you all as to why," she shared on Instagram. "I am over the moon to announce that I am going to be a Mumma. To say that I am happy does not quite cut it. I am ecstatic!"
The daughter of rocker Ozzy Osbourne had a banner 2022. She recently celebrated a year of sobriety and announced on Valentine's Day that her long-time friend Wilson was now her partner.
"What a difference a year can make! If you would have told me 365 days ago that I would be sober, happy, and about to be a mumma I would have laughed in your face," she shared on another Instagram post. "Life is truly amazing when you do the work. Thank you to everyone that has supported me on this journey. I love you all so much!!!!!!!"
It's not clear when Osbourne had the baby, or any other information. And if that's what these new parents want, they more than deserve that. Of course, it's hard to keep totally mum when proud grandparents are in the picture.