Did Khloé Kardashian's Daughter True Accidentally Reveal Kylie Jenner's Baby Boy's Name?
Fans of 'The Kardashians' are convinced True Thompson accidentally revealed Kylie's baby's name during the Season 2 premiere.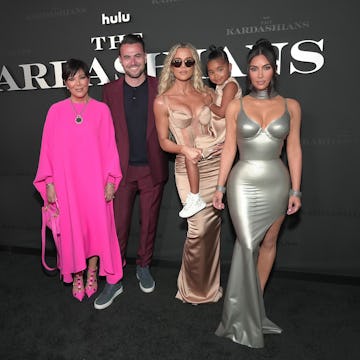 Kevin Mazur/Getty Images Entertainment/Getty Images
Did True Thompson accidentally reveal the name of Kylie Jenner and Travis Scott's baby boy? Fans dissecting the Season 2 premiere of The Kardashians think so.
The Season 2 premiere primarily focused on Khloé Kardashian as she navigated through the chaos of Tristan Thompson's cheating scandal all while preparing herself for a second child. At the end of the episode, fans got to see Khloé welcome her second child via surrogate, during which she FaceTimes her 4-year-old daughter True to introduce her to her new baby brother.
"Hi, Snowy!" True greets her new baby brother. Khloé calmly corrects her daughter, saying that "his name is not Snowy." Khloé also spent some time in the episode discussing potential baby names, noting that "It is going to start with a T," and that T monikers were "really the only names I've been looking at." So who was True referencing when she said "Snowy?"
TikToker Marissa Spagnoli thinks that True accidentally called her new brother Stormy because she was used to calling another baby boy by that name: her baby cousin, aka Kylie Jenner and Travis Scott's second child. Jenner and Scott's son was initially named Wolf Webster, but two months after announcing the name, the cosmetics mogul announced that her son was no longer going by Wolf and that they were still thinking on a name for Stormi's little brother.
"That literally makes so much sense. When my baby was born literally my niece thought it was her baby sister & called him her name," replied one to the video theory.
While that might seem like a stretch for some, the fan goes on to point out how earlier in the episode, Khloé told BFF Malika Haqq that she believed True understood she was about to become a big sister, noting how she would see her cousin Stormi with her own younger brother.
"She just, like, tells people," Khloé said. "Like, when she sees the baby, she'll say, 'I'm going to have a brother, too.' And I'm like, 'Haha, no you're not.' 'Cause she'll just tell random people." Other fans picked up on this too, noting how Khloé seemed to brush off True's comments about becoming a big sister in the same fashion she brushed off the name "Snowy."
"Snow & Stormi make sense. Together they are their own little snowstorm🤍," commented one proponent of the theory.
Still, many point out that all of the Kardashian-Jenners are producers on the show, and given how meticulous they are with their public image, chances are they wouldn't let a whoopsie name reveal just make it to the final cut. Or did they include it knowing very well people would be dissecting the Snowy moment, ultimately providing more promotion for the series? Whatever the case, the people are still eager to figure out what this all means.