A Legally Blonde TV Series Is Reportedly In The Works At Amazon Prime
Elle Woods returns... this time to the small screen.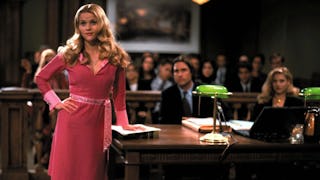 MGM
It's been more than two decades since Legally Blonde premiered and immediately captured the hearts of viewers across the globe. Since then, the star of the movie, Elle Woods (Reese Witherspoon), has continued to be a role model for girls everywhere. Fantastically smart and unapologetically feminine, Elle made "girly girls" feel seen and, perhaps most importantly, represented. Since Legally Blonde first made waves in 2001, it's spawned well-loved spin-offs with a sequel to Broadway shows. And now the Legally Blonde world is adding yet another adaptation to the mix: A Legally Blonde series on Prime Video.
For those who haven't rewatched the film at least once a year since its initial release (on DVD!), the story is pretty simple to recall. Elle Woods' boyfriend, Warner, breaks up with her because he doesn't believe she's the right fit for his life in politics. Annoyed that everyone seems to think she's an idiot, Woods set out to drastically change her life — and accomplish some very big dreams. She works and studies to get into Harvard Law School. (What? Like it's hard?) Then she works her butt off through school. Her flair for dramatics and love of the color pink tend to draw mockery from professors and classmates, but it only adds fuel to her fire. Before long, she's proving everyone wrong.
There's not much more to know about the Legally Blonde news from Prime. Deadline reports that a series is in the works. However, there is also talk about first making a third film in the franchise. It's all part of the aftermath of Amazon Studios' $8.5B acquisition of MGM in 2022. According to the site, Amazon made quick work of identifying titles from MGM's catalogue that have reboot potential. Among them? Robocop, Stargate, Barbershop, Fame, The Magnificent Seven, Pink Panther, The Thomas Crown Affair, and — you guessed it — Legally Blonde.
From the sound of it, not so much as a script or storyboard has been created for the reported Legally Blonde TV series. At the moment, there's no indication that Witherspoon would be interested in reprising her role, meaning you could see an entirely new Legally Blonde story with an altogether new blonde. Whether it's a reboot, a spin-off, a prequel, or even a sequel is still up in the air (or a highly guarded secret).
One thing is for sure: Wherever Prime Video takes Legally Blonde and Elle Woods, pink-clad fans are sure to follow.