LeVar Burton Calls Out Moms for Liberty For Their Book Banning Nonsense
The Reading Rainbow star says he's literally ready to fight for kids' freedom to access books.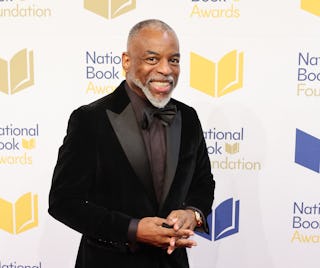 Cindy Ord/Getty Images Entertainment/Getty Images
Sometimes our childhood heroes turn into our adult heroes. Beloved Reading Rainbow host and literary activist LeVar Burton hosted the 74th annual National Book Awards ceremony on November 14 in New York City and had some pretty harsh words for people trying to ban books across the United States, particularly the hate group Moms for Liberty.
Burton started the show with a dig on the group, who is working hard to elect members to school boards and change school curricula to exclude diverse topics, limit sex educations, limit information on slavery, and get rid of anything that even mentions gay people.
"Before we get going, are there any Moms for Liberty in the house? Moms for Liberty? No? Good. Then hands will not need to be thrown tonight," he said in a joking manner at the top of the snow.
Then he got much more serious, talking about why fighting against book banning is so important to our kids and to the future of America.
"On the home front, we are fighting for control of truth and how we interpret truth in this country," he continued. "Books are being banned, words are being silenced, and writers and others who champion books are under attack."
He also talked about why books are being targeted.
"It's because they're so powerful. Stories are the tool that enable us to better understand ourselves and, yes, our history," he said. "To live over the course of a few pages in the experiences of another and to create a world where we can all be free."
Moms for Liberty responded to Burton's remarks on X.
"American moms weep as a childhood favorite, Reading Rainbow, calls for physical attacks against us because we are protecting the innocence of our children."
Okay, Moms for Liberty.
Banning books in schools is at an all-time high in the United States. And it's part of an organized effort among the Christian conservative right to control what our kids read and learn in school. According to the American Library Association (ALA), more than 1,200 book challenges were reocorded 2022, nearly doubling the then-record total from 2021. It's become such an issue that the Scholastic Book Fair has made it easier for school with bans in effect to order books while avoiding anything diverse or controversial.
Burton has been a book activist for years, and also spoke up about his passion for the subject in an Esquire story that released last week.
"I've put in work in this field; I've put in time on these issues," Burton told Esquire. "I'm happy to be the face of it and represent it, because these are matters that I care deeply about."
He also stressed that this isn't just an issue to argue about. It's a foundation of the American dream worth fighting for.
"The efforts to control what other Americans read and what other people's children read—those efforts have really stepped up in the intervening four years," he said. "The whole idea of Americans being in control of their own bodies, their own minds, and their own destinies is a political issue, which is weird, given the fundamental underpinnings of the creation of this nation. But here we are, having this conversation about bodily autonomy, what kids should read, and what we should think. For me, it's a fight worth fighting. It's not only a conversation worth having. It's a fight worth fighting."
He also shared two banned books that helped shape his life.
"The ones that I read as a kid, like Catcher In the Rye and To Kill a Mockingbird, have stuck with me, simply because they occupy a special place in my heart," he said. "These are books that are a part of me, so to see them get banned, it feels like someone telling me that I grew up wrong. Like there's something wrong with me for having love for these books. I know that's not true—I know there's nothing wrong with me, and I know that there's nothing wrong with these books. But that's the signal that's sent—that there's shame in loving literature. And that's just a real perverted point of view."
Sounds like the guy from Reading Rainbow has a pretty strong love of books and a love of freedom, too.