Someone Posted A Glimpse Of The Mermen From 'The Little Mermaid' And The Thirsty Responses Are Hilarious
Prepare to immediately forget about Prince Eric and jump into the ocean.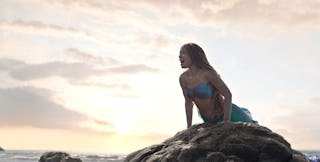 IMDB/Disney
The buzz about the new live action 2023 version of The Little Mermaid keeps on growing as fans get snippets of what's in store for them from trailers, sneak peaks, and premieres. Fans have found out which original songs will still appear as well as all about Ursula and the "controversial" casting pick for Ariel.
And now we finally have a look at the mermen who live below the waves and... everyone must have gulped down some sea water because they are thirsty for them.
The picture going viral appears to be a behind-the-scenes snap of three of the men, taken during filming. And, well, let's just say that everyone wants some "live action" from them.
Two other pictures show bigger groups of what seems like the cast, on a boat and in a field. Let's not parse words: every single one of them is very hot.
If you had six beers for each one of those six-packs, you would be very, very drunk.
The tweet went viral and it's pretty easy to see why.
While it's not clear what the exact source of the picture is, it does seem to be legit. One of the men, Jacob Maynard, does indeed list "merman" on his resumé. And yes, he's an actor and model.
One of the other men in the picture, Marcus Hodson, is also an actor and tagged an ab-heavy picture with Maynard from last year with #merfolk. Where can I find a land witch to turn me into a mermaid??
While these pictures are quite pleasing, the very best part of the viral post are people's hilarious responses to them.
"I guess the seaweed is always greener"
"I want to be part of their world."
"Ariel left them behind just to touch sand lol."
"Ariel needs to trade them pipes for a damn vision test!"
"Sebastian was onto something," one woman said, referencing the cartoon crab's signature song, "Under the Sea."
"WHATS THE PURPOSE OF ARIEL LEAVING THEN," one person asks, obviously shook by her decision to head to dry land.
"Anyone know where I can get some scuba gear," another woman joked.