Cozy Streaming Season FTW
19 New Kids' Movies & TV Shows Coming To Netflix This November — Including A CoComelon Spinoff!
Reasons to be extra thankful this month: a Netflix movie starring Adam Sandler *and* a CoComelon spinoff.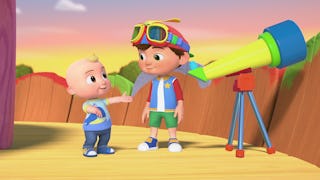 Courtesy of Netflix
It's official: The holiday season is in full swing. As you brace yourself for a calendar full of family gatherings, school functions, and festive plans, just know that Netflix is serving up plenty of reasons to be thankful for your streaming subscription this month. November brings a virtual cornucopia of family-friendly TV shows and movies to Netflix, including a CoComelon spinoff, new holiday specials featuring Strawberry Shortcake and DreamWorks' Bad Guys, and a fresh twist on Freaky Friday starring Jennifer Garner.
This month is shaping up to be an ideal month for co-viewing options. In addition to the aforementioned Garner film, Adam Sandler lends his voice to a lizard with a bucket list in the animated film Leo, and the whole family can enjoy rooting on the athletes in Season 2 of Team Ninja Warrior.
Still, moms need TV time, too, so don't forget to check out part one of The Crown's final season, the two-part Virgin River holiday special, and all three seasons of the underrated comedy The First Wives Club.
For now, read on for a full list of family-friendly titles coming to Netflix in November.
What's New On Netflix In November? The Highlight Reel
Strawberry Shortcake's Perfect Holiday — Nov. 1
Last month, Strawberry Shortcake was taking on the Beast of Berry Bog, but this month, she's in full Christmas mode — and seriously stressed out. The new holiday special will explore what exactly it means to have a "perfect holiday" as Strawberry Shortcake and friends navigate their winter break.
CoComelon Lane — Nov. 17
JJ and his friends are embarking on a new adventure in CoComelon Lane, the spinoff of Netflix's fan-favorite series, CoComelon. For the first time ever, JJ and his pals will talk directly to the audience as they face new experiences, like riding the bus for the first time. The series is designed to encourage imaginative play, making this one perfect for the littles in your family.
Leo — Nov. 21
Sandler stars in Leo, a new animated film from Netflix about a longtime class pet who decides he wants to go on an adventure after learning he has just one year left to live. But first, the 74-year-old lizard is going to need some help from the kids in the class in order to escape his terrarium and start checking off items on his bucket list.
Family Switch — Nov. 30
Family Switch takes the Freaky Friday concept to a whole new level as a mom, dad, son, and daughter all swap bodies on one of the most important days of each of their lives. Now, the family will have to navigate a college interview, soccer tryout, and attempts to land a promotion and a record deal, all while gaining a better appreciation for one another. In addition to Garner, the movie stars Ed Helms, Emma Myers, and Brady Noon.
The Bad Guys: A Very Bad Holiday — Nov. 30
Set before the events of the 2022 animated feature, The Bad Guys: A Very Bad Holiday follows the gang as they plot their city-wide Christmas morning heist. However, when Christmas is canceled, the Bad Guys take it upon themselves to bring back the holiday spirit so they can resume their master plan.
More Family Movies & Shows Coming to Netflix in November
The Addams Family — Nov. 1
Paul Blart: Mall Cop — Nov. 1
Paul Blart: Mall Cop 2 — Nov. 1
Sherlock Gnomes — Nov. 1
Think Like a Dog — Nov. 1
Victorious: Season 3 — Nov. 1
Zoom: Academy for Superheroes — Nov. 1
Unicorn Academy: Chapter 1 — Nov. 2
Erin & Aaron — Nov. 3
The Claus Family 3 — Nov. 8
Team Ninja Warrior: Season 2 — Nov. 10
My Little Pony: Make Your Mark: Chapter 6 — Nov. 23
Go Dog Go: Season 4 — Nov. 27
School Spirits: Season 1 — Nov. 30
So, you've got lots to choose from to get the cozy streaming season off to a good start.