Peta Murgatroyd Faces Backlash For Cheeky Video About Why She's Teaching Her Son To Cook
The DWTS star made a point that rubbed a lot of people the wrong way.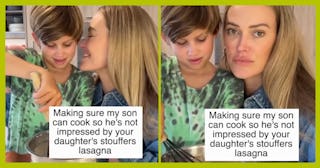 TikTok/Peta Murgatroyd
Some of the worst "mom wars" happen when boy moms and girl moms go at each other's throats. And pro-dancer Peta Murgatroyd might have just started one — although it's hard to tell if she was just trying to joke around or if she was really trying to make a statement. Either way, though, the Dancing With The Stars celeb has lots of parents big mad over her most recent TikTok post.
Murgatroyd and husband Maksim Chmerkovskiy recently welcomed their second baby earlier this summer after a long and hard journey trying to conceive. The dancing couple also share six-year-old son Shai, who is featured in the video in question.
It's only nine seconds long, but that's apparently plenty of time to start a bit of a controversy. While she's standing next to Shai in the kitchen, he's mixing some dry baking ingredients and she's looking at him lovingly. Then she gives a cold stare at the camera along with a caption:
"Making sure my son can cook so he's not impressed by your daughter's stouffers lasagna."
It has some light music playing in the background, making it hard to tell if she's being lighthearted or if there's a bit of truth to it. But down in the comments a lot of parents weren't having it, for a variety of reasons. And both boy moms and girl moms made some strong points.
"Teaching my son to appreciate a Stouffer's lasagna if it was prepared for him," one mom wrote.
"Teaching my daughter that if all she wants to make is stouffers frozen lasagna that's perfectly acceptable," another said.
"Teaching my son to cook so he can be a partner in his marriage."
"I'm teaching my son to cook so your daughter isn't the only one responsible for making the family meals!"
"Teaching my son to be appreciative in general bc sometimes frozen lasagna is the best you have to offer."
"I'm teaching all of my kids (girls and boys) to impress themselves with their own skills. And how to identify red flags."
"My bf appreciates stouffers lasagna because he knows we both work hard for each other and we get tired🤷🏼‍♀️."
"I teach my son to cook so he doesn't expect someone else to be responsible for his nourishment," another wrote.
A few were even offended that Stouffer's was getting called out.
"stouffers good tho?" one person questioned.
"that stouffers lasagna is 🔥🔥," another added.
Some responses, like the one below, racked up even more views than the original video. In this one a wife explains that her husband was patient with her while she learned to cook, and that it made their relationship stronger (and her cooking better).
What's the lesson here? One of the big ones is that while teaching kids life skills is important for all kids, no matter their gender, those skills go beyond cooking and changing tires. They need to understand patience, empathy, and circumstance. There might be a lot of reasons your romantic partner doesn't know how to cook, or a lot of reasons why they defrost a prepared meal now and again.