Peta Murgatroyd & Maksim Chmerkovskiy Welcome Baby #2
The 'Dancing With The Stars' couple have been open about their infertility journey and losses over the past two years.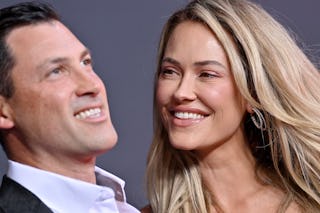 Axelle/Bauer-Griffin/FilmMagic/Getty Images
Kourtney Kardashian isn't the only IVF mom who announced great news this week. Dancing With The Stars standouts Peta Murgatroyd and Maksim Chmerkovskiy welcomed their second baby on Sunday, after two years of trying, and the happy event all went down on Father's Day.
Yesterday, Chmerkovskiy posted a picture of his family's new bundle of joy, along with the perfect message: "Happy Father's Day to me!"
In the first picture, Maksim gazes lovingly into his baby's eyes while cradling him — and by the looks of dad's bracelets and the baby's hat and swaddle, it looks like it's taken a hospital's delivery room.
The baby's face seems to be blurred out for privacy and the couple haven't announced their new addition's name or gender as of yet.
Celebs and fellow parents like Sharna Burgess and Amanda Kloots shared congratulations on the post.
The couple, who also share six-year-old son Shai, have been extremely open about their journey to this blissful moment.
Murgatroyd was painfully candid about the three miscarriages she suffered over the past two years, the third one taking place while her partner was in Ukraine during the ongoing conflict with Russia.
"After the second miscarriage, I said, 'If there's one more, that's it. I'm not doing this again,'" she told People.
When a third loss did occur, Murgatroyd was in even more pain. "When? Why me? Why can't I have another child when it was so easy in the past," she questioned.
After being diagnosed with PCOS (polycystic ovarian syndrome), a hormonal imbalance that can impact fertility, she and her husband decided to try IVF.
She continued to be super open about her journey, even posting a video of her first IVF injections to social media.
"Guys, I know that there's no promises, I know that this is a risk, a gamble, we don't know what's going to happen, but I think this is the most excited I've been in a very long time," she said.
When the procedure was unsuccessful, she shared that heartbreak, too.
"I promised you all that I would be open and honest. I had times where I was unsure of that decision throughout my IVF journey and even more so after we got the news that our transfer did not work. But going back on my word after being such an open book wouldn't be right.… So here it is," she said on Instagram in August 2022. "One of the happiest days of my life, and then 10 days later, one of the saddest moments I'll never forget."
Peta has not yet announced the birth of her baby — her last post on Instagram consists of some striking black and white maternity photos along with a highly relatable caption: "Currently lying on the couch…not looking like this 🤣."
But the 36-year-old professional dancer shared her joy and surprise in January when she announced that she was expecting a baby, and that they had conceived between rounds of IVF.
"It brings me immense joy to finally announce that @maksimc and I are expecting our Chmerkovskiy #2 ❤️After 2 years of constant struggle and heartache, 3 miscarriages and a failed embryo transfer…we have a healthy bun in the oven," she wrote. "It was a shock to all of us and we found out right before I was going in for my second round of IVF. I want to thank ALL OF YOU who've been on this fertility journey with me from the beginning. It feels like I'm sharing this news with my extended family. Thank you for sharing your stories and tips to get me through my IVF cycle and thank you for the plethora of encouraging comments and DM's …I read them all. This news has brought extraordinary bliss to our family and we have so much to be grateful for."
What a happy ending, and all on Father's Day.